International Shooting Centre On Target
02 August 2000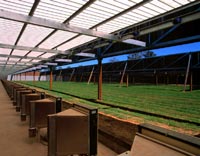 Location:
Cecil Park, Sydney, New South Wales
Country:
Australia
Project Size:
A$30 million
Client:
Olympic Coordinating Authority
Architect:
GSA Architects: Mark Sheldon, Edward Lynch, John Andreas, Jeffery Klein, Daniella Arjona, Brian Graham, Peter Adams, Jack Ashby
Engineer:
Sinclair Knight Merz
Builder:
Belmodar Constructions
Fabricator:
Algons
Products Used:
Roofing
LYSAGHT KLIP-LOK® 406

One of the enduring legacies of the Sydney Olympics is its quality of architecture. When the issue of seat allocation, event schedules and traffic snarls blow over, Sydney, no doubt, will be the envy of every Australian city and quite a few international ones. One of the terrific surprises is the International Shooting Centre at Cecil Park, 50 kilometres to Sydney's west.
The weaponry used for precision target shooting hardly spits flames or recoils like a Howitzer canon. The other infinitely more endearing quality for spectators is that the intent is entirely harmless. Precision shooting involves a range of small calibre pistols and rifles that require surgical skill as well as nerves of steel.

The structure's geometric rigour and planning really reflects shooting in that it's very linear and long, has precise lines and is a very simple, direct response to the program.
There is almost a gun barrel quality down the main spectator spine. There is probably no other project in Australia that has a comparable lineal application. It is some 280 metres long and 24.5 metres wide.

Steel allowed traditional application of straight forms and off the rack universal beams and columns maximise the glazed areas by maximising the steel windows and doorframes which have a raw galvanised finish.
The envelope is completed with the use of COLORBOND® steel. This, combined with the zinc panelling and galvanised steel signage, linked with a raw concrete floor produces a timeless look.
Written by Peter Hyatt