Taking The Risk Out Of Innovation
28 August 2007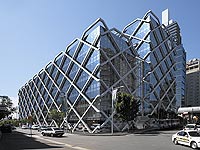 | | |
| --- | --- |
| Location: | Sydney, New South Wales |
| Country: | Australia |
| Builder: | Multiplex |
| Products Used: | Design & Construction |
Integrated property and fund management group, Multiplex will underline its reputation for development innovation in the next few months, as a building like no other in Australia starts to take shape in Sydney's King Street Wharf precinct.
The building's appearance will become a talking point for Sydneysiders, but the progressive Multiplex approach to the construction challenge is just as innovative.
The new Macquarie Bank Centre will incorporate a galvanised diagrid, a steel frame fabricated as an external architectural feature, which also serves as a structural grid to eliminate internal columns.
The bold structure, incorporating more than 1,000 tonnes of high strength welded steel beams, will stand 400 millimetres outside the glass walls of the seven and ten level office accommodation blocks.
Other steel beams with stubs penetrating the glass walls will link the diagrid to central service cores and support composite slabs which will provide 33,000 square metres of office space.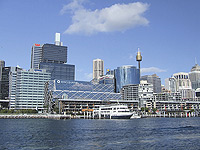 Multiplex, acting as lead contractor for the project, has contracted BlueScope Lysaght's Design and Construction business to provide the entire structural package.
It's a unique challenge, but one for which BlueScope Lysaght's Design and Construction business has assembled exactly the skills required.
"We provide a package of design skills, expertise, planning, project management, financial strength and innovation," General Manager, Brent Poll explained. "Our services are tailored to meet the needs of builder developers and design and construction companies."
"It's a risk free way of harnessing the speed, efficiency and cost saving potential of steel building construction. The Macquarie Bank Centre will be our largest project, but we've already completed a wide variety of contracts."
Those other projects have ranged from an industrial building for AMCOR to a complete design and construction package to provide a steel framed concrete slab for a two storey residential addition on top of a low rise office block.
"We've put together a team in our Design and Construction business which can help tap into the efficiency and cost saving potential of optimised steel framing and composite slab construction," Brent Poll said.
"Industry leaders such as Multiplex recognise that steel can offer exceptional construction advantages and they take advantage of our experience to use it effectively.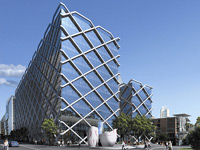 "Less labour on site, faster cycle times, off site fabrication, and less weight in the structure are all important goals, but you've got to have the expertise and the experience to know how to make it happen."
The BlueScope Lysaght Design and Construction business is addressing that challenge by taking the risk out of the process through delivery of end to end solutions.
For the Macquarie Bank Centre project its role includes design optimisation and planning to provide maximum cost and construction efficiency for all the elements associated with framing and 33,000 square metres of slabs.
"A lot of what we do creates work for formworkers, concretors, fabricators and riggers," Brent Poll said. "For example, the diagrid beams for the Macquarie Bank Centre will be fabricated as compact welded columns by multiple steel contractors."
"We also contribute to the success of the project by aligning the work of all the sub contractors using steel in a co-ordinated and managed workflow. By doing that we can minimise risk and cost and maximise efficiency for the developer."
The drive for efficiency is one of the many common features of the projects taken on by BlueScope Lysaght's Design and Construction Business.
"What we can achieve varies from project to project," Brent Poll said. "The earlier our team is involved, the greater the impact our solutions can have on a project's outcome, concept design stage is a must, but pre DA is advisable.
"We'll do whatever it takes to make the building program the best it can be. If that means providing ancillary services such as a tower crane, pour planning or safety railing installation, that can all be part of our package."
Download Taking The Risk Out Of Innovation - The Macquarie Bank King Street Sydney (470 KB)