A Vintage Design in Wine Country
03 August 2002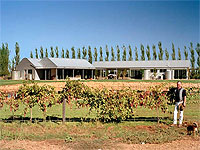 Location:
South Australia
Country:
Australia
Client:
Paringa Vineyard
Architect:
Berriman & Associates
Builder:
William Csorba, The Hickinbotham Group, Ph: 08 8366 0000
Products Used:
ZINCALUME® steel for Roofing
ZINCALUME® steel for Walling
TRUECORE® steel

Awards:
Housing Industry Association's 2001 South Australian award for the "Most Innovative use of Steel?.
South Australia's Paringa Vineyard has used steel to create an innovative and award-winning manager's residence and administration centre. Building and development company The Hickinbotham Group and architects Berriman & Associates designed the building to blend in with its rural surroundings.
The award-winning development uses ZINCALUME® zinc/aluminium alloy-coated steel for the frame, wall cladding and roof.
"Because the building is in a rural setting we wanted to keep faith with traditional rural architecture," Hickinbotham's William Csorba said. "We didn?t want to simply relocate a metropolitan building - we wanted to keep it in sympathy with the rural, vineyard feel of its surroundings."
The management centre provides office space for an onsite vineyard manager who lives in the adjoining three-bedroom home. The building, which overlooks the vineyard, has a distinctive curved roof to complement its extensive use of steel.
Architects Berriman & Associates chose wide verandahs to make good use of the winter sun. The management centre recently won the Housing Industry Association's 2001 South Australian award for the "Most Innovative use of Steel?.
The judges were impressed with the planning and orientation of the residence, its wide verandahs and quality finish.
"The extensive use of steel resulted in an innovative but functional structure," the judges commented. "Good use of curves complemented the roof and walls made from ZINCALUME® steel."
Mr Csorba said steel also offered the designers functional advantages beyond the aesthetic aspect.
"Of the two houses we built in the area - one using traditional materials and this one using ZINCALUME® steel - the steel house has provided much better thermal properties," Mr Csorba said. "Importantly, steel is not prone to termites - and that is often an issue in rural areas."