House for Five a Triple Treat
02 August 2000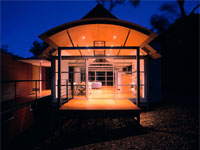 Location:
Dudley, Newcastle, New South Wales
Country:
Australia
Construction Date:
March 2006
Project Size:
A$235 000
Client:
Gail and Rod Seymour
Architect:
Rod Seymour Architects
Engineer:
Northrop Engineering
Builder:
Rod Seymour Builder
Fabricator:
Frost Fabrications and Newcastle Steel Trusses
Products Used:
Walling
Roofing
LYSAGHT MINI ORB®

Some people conceal their intentions so well that it is almost an art form. Newcastle architect Rod Seymour, whose House for Five won the 1997 RAIA Blackett Award for the best building outside metropolitan Sydney, is stunned by his success. Seymour recalls one jury visit, the brisk walk through and a feeling that some jury members "would rather be elsewhere".
The House for Five at Dudley, a former coal mining township south of Newcastle, is terrific news. There may be widespread despair at the lack of leadership shown by architects in putting real design within reach of the average punter.

Constructed on a modest budget of A$750 per square metre for an overall cost of A$235,000 the house comprises four bedrooms, and study, a three vehicle garage, entry bridge, eastern living deck, dining deck and northern deck. An impressive package. The whole envelope read as a descriptive combination of COLORBOND® steel, LYSAGHT MINI-ORB® and ZINCALUME® steel.
As land for suburban development runs out, remaining sites, many once considered too hard and "unbuildable" are being salvaged with finesse and sensitivity using alternative building systems. Imaginative and economical, the steel based solution makes a seemingly effortless connection with place.

The 3 pavilions create optimum flexibility for a young, growing family. Bedrooms are contained in a 2 storey red box which floats just above the ground and looks as if it could be removed just as easily as it was put there. The living area is a transparent, delicate steel tent. A 3 car garage is detached and out of the way, but joined to the house by a long bridge that leads to the glass entry linking living and bedroom pavilions.
Written by Peter Hyatt