Oyster Bay Shack A Tassie Pearl
15 March 2002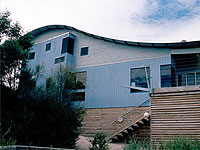 Location:
Freycinet, TAS
Country:
Australia
Architect:
John Dingemanse, CB&M Designer Homes, Ph: 03 6332 6988
Builder:
John Dingemanse, CB&M Designer Homes, Ph: 03 6332 6988
Products Used:
Roofing
Walling

Awards:
Housing Industry Association's National GreenSmart Building of the Year Award.
This award winning Oyster Bay shack on Tasmania's East Coast uses COLORBOND® steel for the roof, ceiling and part of the wall cladding to create an energy efficient, environmentally friendly beach house. A Tasmanian designer and builder specialising in environmentally sustainable homes has created an award winning, energy efficient beach house.
The "Oyster Bay Shack" at Freycinet on Tasmania's East Coast has attracted widespread public interest and was named joint winner of the Housing Industry Association's most recent national GreenSmart Building of the Year award for its environmentally sustainable design.
CB&M Designer Homes used COLORBOND® steel for the roof and ceilings. The walls are also partially clad in COLORBOND® steel. The roof - the home's defining feature - represents a breaking wave coming up from the sea.
The home is designed to blend with the coastal setting and the rounded granite cliffs of The Hazards mountain range behind. CB&M's Managing Director, John Dingemanse, said COLORBOND® steel provided the perfect solution for the dramatic wave curved roof.
"Due to its flexibility, COLORBOND® steel was the only product capable of accommodating the double radius of the curved roof," Mr Dingemanse said. "No other product could match the accuracy of the curves."
The house is designed to maximise views in each direction, as well as to achieve optimum solar benefit from the winter sun. The home's ceiling, floor and walls are fully insulated to further increase energy efficiency.
"The Oyster Bay Shack was developed initially as a prototype to incorporate new ideas and technologies relating to energy efficiency," Mr Dingemanse said. "It has attracted considerable market attention and there are now a number of clients who want to incorporate the environment and energy efficient principles into their own projects."
The fully insulated, lightweight, steel shack demonstrates the energy-efficiency and environmental friendliness of COLORBOND® steel. COLORBOND® steel can offer improved comfort within the home and improved energy efficiency. A roof made from light coloured COLORBOND® steel can result in less heat radiated into the home compared to other commonly used roofing materials. In winter, the same steel roof, properly insulated, helps keep the heat inside.