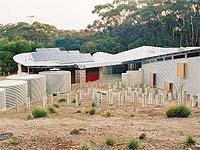 Drought - Relief is Under Our Roofs
03 April 2003
Given Australia's variable rainfall, it makes sense for householders to install a rainwater tank.
We must learn to live with drought. That's the stark advice from Australia's Commonwealth Bureau of Meteorology, even as vast tracts of the country turn green with the benefit of recent rain.
From the Bureau's perspective the recent rainfall merely confirms the importance of water conservation strategies to cope with times of drought.
Steel water tanks are at the centre of new initiatives to help householders save water.
In the Bureau of Meteorology's definition a drought is "a prolonged, abnormally dry period when there is not enough water for users" normal needs."
But, as Australians are learning, impacts can vary from brown lawns in suburbia to dying stock and failed crops in rural regions, to a multi-billion dollar hit to the nation's gross domestic product.
Australia has one of the most variable rainfall climates in the world, according to the Bureau of Meteorology. "Over the long term we have about three good years and three bad years out of ten," it warns.
Australia's National Climate Centre points to 2002 as the country's hottest ever in terms of maximum daytime temperatures and the UN's World Meteorological Organisation identifies global warming as the cause.
In case any further sobering evidence was needed, there's the realisation that Australia's rural producers are only now receiving "exceptional circumstances" assistance.
The rationale is that drought is part and parcel of life in Australia, especially in rural areas, and that the government should only provide major assistance when the land is in the grip of the most severe climatic emergency.
Such circumstances are prompting moves by state and even local governments to ensure that water storage and conservation become front-of mind issues.
The call to action is the classic "think globally, act locally." And the action can and should start in every Australian backyard.
State and local governments around Australia are actively promoting water conservation in urban areas through measures that include a range of rebate schemes designed to encourage householders to install backyard or under-eaves rainwater tanks.
Rebate schemes are already in place in Queensland, New South Wales, Victoria and Western Australia and under consideration elsewhere.
Introducing Western Australia's tank purchase rebate scheme recently, Premier Geoff Gallop explained the challenge posed by Australia's dry continent characteristics.
"The water shortage we are currently experiencing has clearly shown us that the Government cannot solve this problem on its own - we need the co-operation of the community, industry and local government," he said.
Businesses and homeowners purchasing rainwater tanks covered by the various rebate programs receive up to A$500 towards their cost, depending on the size of tank they purchase.
Alex Dunlop of City Rainwater Tanks at St. Marys in Sydney's western suburbs is one of many in the industry who have seen the changes and welcomed them.
"The traditional corrugated steel tank is now made from AQUAPLATE® steel for water tanks which was developed by BHP Steel," he said. "People recognise there is an issue with water conservation."
"Government rebates, the new under-eave tank styles and the confidence that a product such as AQUAPLATE® steel provides are encouraging householders."

While some of the schemes are running as pilot programs, there is every indication that they will become a permanent feature of urban housing arrangements.
Tankmakers around the country have reported an upsurge in demand as financial incentive joins common sense as a reason to water gardens or flush toilets with water collected from your own roof.
Tank design has come a long way from the days of galvanised tanks sitting on weathered timber stands covered in passionfruit vines and with an ominous croaking sound echoing from within.
Tank makers have adapted their designs to make them more compatible with the urban landscape. Free-standing slimline designs fit under the eaves of most houses and numerous plumbing options are available.
Some tank installations collect the first 50 or 60 litres of rainwater to sluice the roof and gutter system and remove dust and debris, then drain that away before adding subsequent water to storage.
Tanks made from AQUAPLATE® steel are the only steel tanks which comply with tough Australian standards regulating the storage of water fit for human consumption.
AQUAPLATE® steel has a food-grade polymer lining bonded to a long-life corrosion resistant steel base to help maintain water quality.
Customers can choose from a range of COLORBOND® steel colours or opt for a natural, corrosion-resistant galvanized surface with a resin coating applied.
AQUAPLATE® steel offers a combination of low price, long life and good looks and is backed by BHP Steel with a 20 year warranty against corrosion to perforation.
More about these products