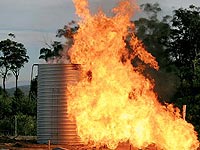 Steel Tanks A Flaming Success
18 July 2007
Recent research conducted by the Bushfire Cooperative Research Centre and the CSIRO shows that different types of rainwater tanks can play an important part in defending homes against bushfire threats.
The study looked at the effects of typical Australian bushfire exposures on residential and commercial water tanks made from both steel and plastic.
According to the Bushfire Cooperative Research Centre, anecdotal evidence already existed to suggest water tanks made from steel offered residential and commercial properties a more reliable water supply for fire fighting during bushfires than tanks made from combustible materials, such as polyethylene.
CSIRO researcher Justin Leonard said: "The steel water tanks assessed in the study were effective in maintaining a fire fighting water supply to property owners in bushfire prone regions of Australia."
Of the different materials tested, spiral wound steel tanks performed best under all bushfire conditions. As well, all tanks made from steel maintained structural integrity when subjected to a 30 minute flame immersion test, simulating a nearby structural fire.
Steel construction liner tanks also maintained structural integrity during all tests, with the liner able to retain water during and immediately after the fire 'front', a critical period when it comes to protecting property in a bushfire.
Polyethylene tanks, however, suffered considerable distortion during a simulated bushfire passage. This deformation, occurring during a 30 minute flame exposure test, resulted in the tank splitting and melting down.
When adjacent to combustible material, such as wooden fences and structures or other similar tanks, polyethylene tanks risked total failure.
The report concluded that tanks such as BlueScope Water's WATERPOINT CLASSIC® made from AQUAPLATE® steel (those used for the tests) were most suitable for supplying water during and immediately after a bushfire.