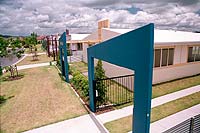 Dream Street Evokes Images of Yesteryear
14 February 2002
A Queensland architect is creating his dream community by returning the streets to the people and offering the quality living of yesteryear at an affordable price. The new Chancellor Street project is now under construction adjacent to the University of the Sunshine Coast about one hour's drive north of Brisbane.
Marios Constantinides of Unistyle dreamed of designing and constructing a complete suburb for many years. "The Chancellor Street project aims to draw people's attention back to what is really important in choosing a place to build a home, family, lifestyle, and a genuine sense of community," Mr Constantinides said.
"We looked back to the days when streets were the domain of people, where big native trees provided shade from the hot summer sun, and where cricket was the primary use of any good driveway. "The concept evolved from taking a fresh approach to traditional ideas where community living plays a large part of the overall streetscape."
All Chancellor Street homes are individually architecturally designed, with energy efficient features including roofing and walling made from COLORBOND® steel.
"Steel suits the Queensland climate and we believe it is a mistake to use anything else for your roof," said Mr Constantinides. "A steel roof sheds water quickly, is hail-resistant and cools down quickly at night."
The Chancellor Park streetscape combines parks, bikeways and barbecue areas for residents to enjoy and socialise. Colour is used to create mood and atmosphere in each of the homes, with modern colour schemes, flexible floor plans and people-friendly streetscapes.
External walls also feature cladding made from COLORBOND® steel. The steel on the walls was chosen for both its aesthetic qualities and its versatility. "It is attractive and economical, can be easily replaced if damaged and offers a wide choice of colours and textures for the wall surfaces," Mr Constantinides said.
For more information call:
Mario Constantinides
Unistyle Constructions Pty Ltd
Ph: 07 5445 6688