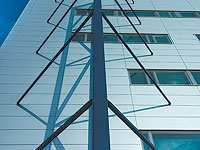 New Facade Solutions From BlueScope Lysaght
02 May 2007
BlueScope Lysaght has established a specialist facades business to provide complete solutions including design, supply and installation of metallic cladding.
The new service combines the best European design, state of the art materials technology, Australian construction expertise and extremely versatile, customised facade panels and accessory components.
It allows architects, developers and facade consultants to select attractive, competitively priced, practical facade solutions. Punched windows can be included in the package if required, to manage the interface and reduce the program length.
The comprehensive service includes direct contracting with builders, managed installation and the provision of a BlueScope Lysaght warranty covering facade elements and installation.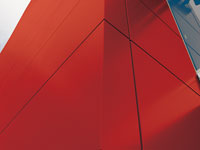 The new business has drawn on BlueScope Steel"s world leadership in steel painting technology to develop attractive ranges of solid and metallic standard colours as well as the ability to create custom colours to match design themes or corporate colour schemes.
BlueScope Lysaght undertook a global search to evaluate the best available facade technology for the new service. It selected a Finnish system already fitted to hundreds of buildings in Europe over 22 years and two million square metres, then improved it extensively to suit Australia"s harsh environment.
Components are manufactured in Australia using state of the art, proprietary machinery to achieve outstanding dimensional accuracy. The resulting system is strong and installed with exceptional precision, so that fine lines and shadow effects remain consistent even over long runs.
New colour and style choices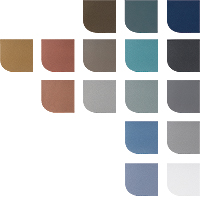 BlueScope Lysaght facade choices are available in colour and shape combinations not previously seen in Australia.
"We've chosen profiles which are extremely versatile, but we also offer innovative customised panels," BlueScope Lysaght Facades, General Manager, Catherine Jacob, said. "They will open a whole new world of possibilities for creating a building"s personality.
"The value of any facade system lies in the design flexibility which can be achieved. We"ve developed facade components which can be precisely dimensioned for their application and are produced in versatile forms such as slanted, curved and corner configurations.
"BlueScope Lysaght facade solutions not only provide new materials and designs which meet aesthetic requirements, they include expert installation and a warranty* which covers installation as well as materials."
BlueScope Lysaght's environmentally friendly facade components are manufactured from steel and other recyclable materials to reduce the impact of building activities on the environment.
All components and services are 100 per cent Australian made, which provides shorter lead times and outstanding service.
Two families of facade component styles are available, Azure™ and L'attitude™, both engineered as pressure equalised systems to provide maximum durability with low maintenance.
The two styles have been developed to complement each other when used together on the one structure or to create impact when used alone.
Designer solid and metallic colours are available in a prepainted Azure™ or L'attitude™ panel range and unlimited colour choices are available for Azure™ or L'attitude™ panels painted after the forming process. The advanced Fluorocarbon painting process also provides precise control over colour and gloss level for even greater customisation choices.
Both facade styles are complemented by trim and accessory panels designed and manufactured as part of the total BlueScope Lysaght facade project service. All panels are designed for easy and precise installation onto a lightweight steel supporting structure.
"We offer a fresh approach to facade options," Catherine Jacob said. "BlueScope Lysaght can now provide a brilliant alternative to composite architectural claddings."
More about these products