Ranbuild Sheds & Garages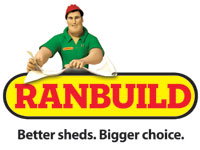 In 1949, Ranbuild began as R&N Trading Pty Ltd at Newcastle in New South Wales, Australia.
Since it's conception, Ranbuild have produced tens of thousands of buildings for Australian households, farms and industry.
Along the way, Ranbuild have also exported countless numbers of buildings to Asia, the Pacific and Middle East. The company has maintained a steady growth and is a part of Lysaght Building Solutions Pty Ltd, a fully owned subsidiary of BlueScope Steel, with solid assets, assuring it's customers of service and reliability for the future.
Ranbuild has an extensive network of independent resellers across Australia.
View the full range of Products and find your closest Ranbuild Reseller.