Bushfire Design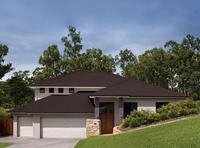 BlueScope Steel Product Solutions for Bushfire Areas – NASH Bushfire Standard Design Guide Available

The National Association of Steel Framed Housing (NASH) is an industry body that develops Standards for low-rise steel framing. The NASH Standard for Steel Framed Construction in Bushfire Areas sets out acceptable construction details for residential and low-rise buildings in bushfire prone areas. The Standard incorporates two simple and cost-effective solutions based on Bushfire Attack Levels of BAL-12.5 to BAL-FZ as defined in AS 3959:2018. The NASH Bushfire Standard is referenced in the National Construction Code (NCC) as a Deemed-to-Satisfy (DTS) solution for the design and construction of steel framed homes in bushfire areas in all States* and Territories.
Construction details to the NASH Bushfire Standard are available for a range of COLORBOND® steel and ZINCALUME® steel clad residential roofing and walling systems in conjunction with framing made from TRUECORE® steel. These construction details are contained in BlueScope's design guide "BlueScope Steel Product Solutions for Bushfire Areas – NASH Bushfire Standard". This design guide has been developed to provide assistance to homeowners, builders and designers who are looking to build or re-build homes in bushfire-prone areas BAL-12.5 to BAL-FZ.
Australian Standard AS 3959:2018: "Construction of buildings in bushfire-prone areas" specifies the requirements for the construction of buildings in bushfire-prone areas in order to improve their resistance to bushfire attack from burning embers, radiant heat, flame contact and combinations of the three attack forms. The objective of the Standard is to provide greater protection for the occupants who may be sheltering in a building while the fire front passes and to increase the chances of the building surviving. The details in this design guide summarise simple and cost-effective solutions to comply with AS 3959:2018 using the NASH Bushfire Standard.
For further details regarding the use of BlueScope's products in the design of buildings located in bushfire-prone areas, please contact.
Steel Direct
1800 800 789
steeldirect@bluescopesteel.com
*Note that additional requirements may apply.