Da Vinci Business Park, Brisbane Airport
25 February 2010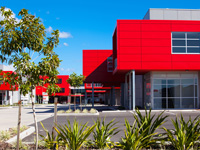 | | |
| --- | --- |
| Location: | Brisbane |
| Country: | Australia |
| Architect: | BVN Architecture |
| Builder: | De Luca |
The Da Vinci Business Park in the Brisbane Airport precinct is strikingly adorned with Azure™ profiles. The panels entirely clad the dual wings of the site's multilevel main building and serve to highlight the extruded office areas of 11 other satellite buildings.
The Azure™ facade profiles neatly interface with a variety of large windowed areas. The profiles are formed using state-of-the-art folding machinery which makes them highly customisable.
Colour is another area in which the Facades product offers virtually unlimited customisation. The Da Vinci Business Park's Azure™ profiles are finished in a daring Red Horizon colour that transforms the commercial precinct into a distinctive beacon – both from above and below. The Facades' painting system allows for any colour to be fully warranted up to 20 years.
Design and construction manager, Ben Canniffe from De Luca, said the façade product created a unique identity for the Da Vinci Business Park: "It has a substantial aesthetic impact. With exceptional vibrancy, it deviates from conventional colour schemes to create a pioneering building in terms of finish," Mr Canniffe said.
Project Architect, Morgan Corkill of BVN Architecture, said the Azure™ Facades system offered many advantages: "We found the product unusually versatile. It's cost-effective, able to be finished in brighter colours than normally available and the computer-based folding system provided an accurate module for the design."