Facades Make A Splash In Victoria
28 January 2009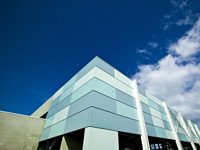 | | |
| --- | --- |
| Location: | Geelong, Victoria |
| Country: | Australia |
| Client: | Bellarine Leisure Centre |
| Architect: | William Ross Architects |
| Builder: | Lyons Construction |
| Site Manager: | Bernie Henry |
| Products Used: | (incomplete) |
BlueScope Lysaght's Facades business has successfully completed its first Victorian project with an eye catching installation for the Bellarine Leisure Centre at Ocean Grove, south of Geelong.
The project to upgrade the Bellarine Leisure Centre was carried out by leading Geelong commercial construction company Lyons Construction.
The company's site manager, Bernie Henry, was impressed by the Facade systems application process and the finish it achieved.
"The complete solution based approach adopted by the BlueScope Lysaght Facades business was critical to the smooth running of the project," he said.
"It was so much easier to manage as we only had to deal with one point of contact."
"BlueScope Lysaght was very good to deal with," explained Bernie. "All the Facade panels were delivered to site individually wrapped so they were in perfect condition and placed exactly where we needed them."
Project architect Lionel Rosenberg from leading Melbourne firm Williams Ross Architects, enjoys the design flexibility offered by Facades saying, "Designs using Facades are limited only by your imagination.
"It's a unique product with endless application possibilities. Having a complete project package bundled together simplifies administration and project management, and we are already looking at using it on another project," he said.
The system used on the Bellarine Leisure Centre project incorporated AZURE™ facade profiles in a double skin system with ventilation and drainage between the skins.
This pressure equalising system does not require any site applied sealant between the panels. It is extremely durable and significantly reduces maintenance as seals do not have to be replaced or repaired.
Suited to large areas
According to Bernie "Once the top-hat purlin support framework was in place, the installation was very fast," he said. "It's a product I would be happy to use in the future. I see it being very popular in the building trade."
AZURE™ panels have a simple, elegant design that is well-suited to large areas. The clean, sharp lines achieved with exceptional dimensional accuracy lend themselves to projects where colour and alignment are used to create a bold statement.
BlueScope Lysaght's L'ATTITUDE® and AZURE™ profiles are formed on state of the art folding machinery which enables customised metal panels to be made to individual design specifications.
Available in a choice of materials
The panels are available in a wide variety of length, depth, height and joint width dimensions to allow complete design flexibility with custom design trims, flashing and accessories.
BlueScope Lysaght Facades give architects, developers and builders a virtually limitless colour palette and a design freedom previously unavailable in Australia.
They feature the best in European design, combined with Australian innovation and construction expertise.
Underscoring their versatility, L'ATTITUDE® and AZURE™ profiles panels can be made from steel, aluminium, zinc, stainless steel and even copper, enabling contemporary and classic finishes to be achieved.