Living Legacy
04 April 2012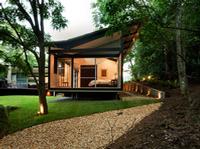 Architect Louise Nettleton's lavish and inspired use of steel has helped embody a WWII veteran's vision to build a house as a legacy to his family
Perched in the idyllic hinterland at Foxground on the New South Wales South Coast, this house is built on land especially significant to Ron Plater's family. Ron laid his wife's ashes there and 20 years ago planted the now flourishing Australian Cedars in preparation for building a house that his children and grandchildren would share.
The parcel of land was at the tip of a wider landholding, bounded by a road and creek, and offering, in Ron's eyes, a logical case for subdivision. The local council rejected Ron's application to subdivide the parcel on which the house was eventually built. But as a decorated World War II veteran whose unit had captured a Japanese-held outpost on the Kokoda trail in 1942, Ron knew how to fight. Even at age 84, he battled in the Land and Environment Court until permission was granted.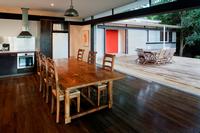 Low maintenance was a key client requirement. With this in mind, Nettleton chose LYSAGHT CUSTOM ORB® profile made from galvanised steel. "From a practical point of view it's perfect because it doesn't require much looking after," she says. "For cladding, it's not as precious as materials you have to join and seal in vertical and horizontal patterns. It's easy to fix from a builder's point of view because you can readily hide the joins with overlapping curves in the material. That crisp detailing is a real plus."
The Foxground House cladding has been fixed quite simply. "Basically, just screwed into the wooden panels behind in a pretty standard way," Nettleton says. An exception to the standard fixing is found in the inclusion of large, sliding window shutters, which are also clad externally in LYSAGHT CUSTOM ORB® profile made from galvanised steel, and internally in LYSAGHT MINI ORB® profile made from galvanised steel. Both profiles are fixed to an aluminium frame similar to the door and insect-screen frames that sit behind.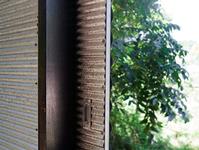 The steel shutters are multi-functional in that they provide additional security for the often unoccupied house by enabling entire sections to be completely closed off. They also help control temperature in the naturally ventilated house by variously channelling or blocking sunlight and breeze.
Structural steel is also used liberally throughout. The living area, particularly, makes use of steel cross beams which brace the floor and assist with a cantilever that extends the northeast-facing main windows beyond the rest of the house.
A canopy of remnant rainforest would have obstructed views to the valley beyond it, had not Nettleton chosen to elevate the house above grade. "It's beautiful being in tree canopies, rather than under them, so I put the main view and deck view in and around the canopy to take in views to the other side of the valley."
Nettleton acknowledges that the many unusual circumstances that she encountered in bringing her original client's goal to fruition have helped to shape the wonderful end result. "Each project has its own life and tells its own story," she says. "It was unusual to have such an elderly client and there's also quite a romantic background in the house's origins: that Ron wanted to leave a memorial for his family."