Qantas Domestic Terminal Business Class
02 August 2000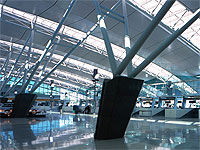 Location:
Mascot, Sydney, New South Wales
Country:
Australia
Project Size:
A$217 million
Client:
Qantas Airways
Architect:
Hassell Group: Tony Grist, Jari Seppanen, Bill Dickson, John Riley, Andy Bahai, & Janene Weber
Engineer:
Connell Wagner
Fabricator:
Alfasi Constructions - Departures Hall
Profab - Satellite
Project Team:
CRI Pty Ltd
Civil and Civic Pty Ltd
Products Used:
Roofing
COLORBOND® Metallic steel
LYSAGHT CUSTOM ORB®
LYSAGHT LONGLINE 305®
Insulated Panels

Qantas has just provided its Sydney Mascot terminal with a classy upgrade. The old terminal was tatty and jet-lagged. With the Olympics and beyond, facilities provided by the national carrier will increasingly come under the public eye. By and large, aircraft are generic, so too are terminals. But this time Hassell architects was asked to design a building with a difference.
Built at a cost of A$217 million, Qantas should view its latest addition as every bit as important as another A$60 million jumbo jet aircraft to its fleet. More than 5.5 million passengers annually are processed through Sydney's Qantas domestic terminal so it makes sense to treat it as one of their most important investments.
Its soaring, feathered roof will push many of the right buttons for travellers. The roof arcs to the north and ties down to just above the raised roadway to provide a very legible scale. COLORBOND® steel is used extensively together with a range of structural steel.
Given its use for domestic passenger travel, the terminal's scale is formidable. A 300 metre long concourse and grand departure hall 120 metre x 45 metre x 15 metre high had to be grand enough in their gesture but intimate enough in detail to connect with the human scale.
The departure hall roof features 70 metre long trusses yet these retain a surprisingly light, delicate scale. The trusses have different stresses through the structure requiring a consistent detail to counteract both tension and compression. At the east and west ends of the roof a European Truss braces the end members and allows the last fascia truss to cantilever in a dynamic fashion.
Written by Peter Hyatt