Coomera Waters Best Of Both Worlds
29 March 2003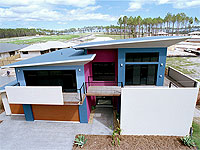 Location:
Coomera Waters, Queensland
Country:
Australia
Builder:
Jon White,
Boss Homes
PO Box 3314,
Nerang QLD 4211
Ph: 07 5578 4110
Email: jon@bosshomes.com.au
Products Used:
Roofing
TRUECORE® steel

Queensland's newest eco residential resort based around a 17 hectare lake on the Gold Coast has inspired one of the state's leading builders to create an ecologically sustainable home using steel building technology.
The Seaview by Boss Homes at Coomera Waters incorporates energy efficient principles coupled with a daring design featuring steel building frames made from ZINCALUME® steel and roofing made from COLORBOND® steel.
The resort style accommodation of Coomera Waters is designed to provide the best of both worlds to business people and families - access to Queensland's two major cities and a waterfront lifestyle.
"We were so impressed by the orientation and location of Coomera Waters when we first visited in 2001," said Boss Homes founder, Ian Anderson.
"Right from the beginning my mind was energised with visions of what we could create with such a stunning backdrop.
"Coomera Waters is an ideal estate for those home owners who would like to commute quickly to an office in a thriving capital city - and still enjoy a relaxed weekend or be close to one of the world's boating meccas."
Ian Anderson designed the Seaview specifically for its location within the Coomera Waters estate.
He used correct orientation and building materials such as COLORBOND® steel and ZINCALUME® steel from BlueScope Steel to produce an ecologically sustainable home.
The home's sloping roof made from COLORBOND® steel is both an architectural feature and an integral part of the energy efficient design.
The low thermal mass of the roof combined with appropriate insulation ensures minimum heat flow into the home, making for comfortable living conditions, reducing the need for air conditioning and lowering electricity usage.
"Aesthetically, the skillion roof and angled soffit create a stunning architectural presence, but the practicality and functionality of the design goes far beyond the visual appeal," said Mr Anderson.
The roof made from COLORBOND® steel is designed to capture the airflow above and around the home, and the angled soffit effectively channels the breezes in through the elevated louvre windows, creating a natural cooling system.
"The practical nature of the design creates an ecologically sustainable environment and maximises the energy efficiency of the home," Mr Anderson said.
Building frames made from ZINCALUME® steel by a leading steel frame manufacturer provided additional design flexibility.
The frames created a home which is comfortable to live in without the need for costly and less energy efficient forms of heating and cooling.
The Seaview has five bedrooms and three bathrooms. It covers an area of more than 440 square metres including outdoor deck areas, with a fully landscaped pool to enhance the entertaining nature of the home.