Export Innovation a Vintage Success
30 October 2004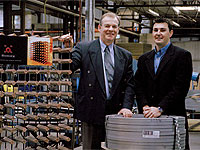 An innovative South Australian manufacturer is riding the wave of demand for Australia's premium wines, exporting modular steel wine racks to the world.
Adelaide based Bordex Wine Racks is one of the largest wine storage system manufacturers in the world. It manufactures and markets a range of versatile modular wine racks suitable for both domestic and commercial environments.
The racks are made from 1mm thick and 24.5mm wide ZINCSEAL® steel that is processed by Brice Metals, a BlueScope Steel distributor that has grown to become one of South Australia's largest sheet metal and coil distributors.
ZINCSEAL® steel is a zinc iron alloy coated, commercial forming steel suitable for bending and moderate forming. It is skinpassed for an extra smooth, surface suitable for a high quality paint finish.
The Bordex workforce has grown by over 300 per cent the last five years, due largely to its export success. It now services markets in 22 countries- including the UK, Northern Europe and throughout Asia. Such has been its success, Bordex is due to open a new warehouse and office in New York next month, adding to its existing international offices in both the UK and Copenhagen.
"Exports now represent over 30 per cent of our total turnover," said general manager Craig Anderson. "Not only are the racks a unique stand-alone product, but also the perfect complement to another well known and respected Australian export - wine."
The space saving modular racks are available in a range of kit sizes and can be custom made to any size. Once installed, the racks which can be designed to fit under stairs, in cabinets and to circumnavigate corners, can be expanded and reconfigured as required.
Bordex traditionally targeted commercial clients such as winemakers, restauranteurs and wine retailers. However, increasing popularity with individuals through the Bordex website www.bordexwineracks.com has greatly boosted recent growth in global markets. The website is tailored to suit the language and currency of individual users. It allows customers to design and view a 3D version of a complete wine cellar online, and lets buyers make secure payments and track deliveries online.
Bordex expects turnover to increase by as much as 20 per cent over the coming year, propelled by its increased presence in the US marketplace.