Hilltop Glasshouse Has Views To Thrill
01 May 2003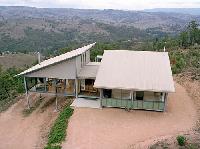 Location:
Little Hartley, NSW
Country:
Australia
Architect:
John Smith,
John Smith & Associates
Level 1, 122 Victoria Road,
Drummoyne 2047
Ph: 02 9819 7256
Fax: 02 9819 7969
Email: johnsmith@ggn.com.au

Builder:
Peter Holt Constructions
Products Used:
Walling
Roofing
TRUECORE® steel

Sydney architect John Smith has realised a client's dream to live in a glasshouse nestled above the Megalong Valley of the Blue Mountains - due largely to the design flexibility of steel building technology. The location of the house at Little Hartley on the western side of the Blue Mountains offers sweeping 180 degree views up and down the Megalong Valley.
The use of structural steel building frames and lightweight roof and wall cladding made from COLORBOND® steel minimised the impact on the steep site, also providing protection against bushfires and resistance to termites.
The home is divided into two pavilions connected by a central passageway separating the living/dining/kitchen zone from the sleeping zone at the eastern end of the building, with a deck thrusting out to the north to capture the winter sun.
"The clients were impressed by the Queensland coastal architecture of Gabriel Poole and others, and approached BlueScope Steel for information about building a home in steel and glass," said John Smith.
"This made the design process much easier, and after several visits to discuss siting the home on the property they were very enthusiastic about the concept of optimising the commanding views up and down the valley.
"The finished house can be opened up in various ways, fly screened or shut depending on wind and sun conditions and the occupants' needs."
Materials were selected with fire and termite control as primary determining factors.
Steel became the obvious choice to respond to the client's brief and create views from all rooms in a building that needed minimal maintenance.
"Structural steel framing made from ZINCALUME® steel and wall and roof cladding made from COLORBOND® steel in the colours Dune® and Stone* achieved the aesthetic the clients wanted, a resistance to fire and pest attack, and an ability to blend in with granite, wattle and eucalypt landscape," said Mr Smith.
"The use of steel also delivered low maintenance, which was an important consideration on this project which serves as a weekend retreat for the two clients.
"The skillion roof design in COLORBOND® steel reflects the slope of the hill, countering the prevailing southerly and westerly winds and providing the sole means to collect their drinking water."
*Stone is part of the COLORBOND® steel secondary colour range.