Jandson Offers Esprit De Steel
27 August 2003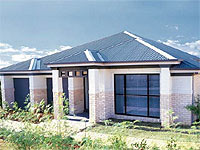 Location:
Sydney
Country:
Australia
Project Size:
239.26 square metre
Builder:
Mr Terry Sullivan
Jandson Homes
Unit 6/13 Avenue Of the Americas
Newington 2127
Ph: 02 9741 7100
Email: sales@jandsonhomes.com.au
Products Used:
Roofing

Leading Sydney builder Jandson Homes has developed a sleek new version of one of its most popular new home designs. Called Esprit IV, the four bedroom home includes energy efficient design features including a roof made from COLORBOND® steel and architecture that allows the home to be adjusted to suit individual blocks of land.
Clever internal design has all the living areas grouped to one side of the home, allowing the courtyard and garden to become the central focus and creating a feeling of spaciousness and comfort.
Terry Sullivan of Jandson Homes said steel building technology was integral to offering low maintenance homes to potential buyers.
"Steel roofing made from COLORBOND® steel also offers great thermal efficiency, has excellent resistance to impact from storms and hail, and is lightweight compared to potential alternatives," Mr Sullivan said.
"We also offer COLORBOND® steel as an option for roofing because it is available in a new range of colours - and its versatility suits our collection of homes."
The Esprit IV display home at Homeworld IV, Kellyville, is one of four designs from the Jandson Homes collection planned for completion in 2003.
Environmentally sensitive and energy efficient design principles in the Esprit IV also provide better use of homesites to create a fully optioned family home with the garage at the building line for councils where this is required.

The 239.26 square metre (25.75 squares) home is available in two levels of finishes and designed to suit sites from 12.5 metres wide, with prices starting at A$130,970.
"The design also offers added privacy and reduced maintenance suitable for both courtyard and compact conventional home sites at affordable prices," Mr Sullivan said.
"Coupled with the savings that can be made on land costs, the Esprit IV is an affordable solution for growing families."