Melbourne Sports & Aquatic Centre The Ripple Effect
02 August 2000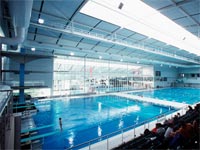 Location:
Melbourne, Victoria
Country:
Australia
Project Size:
A$65 million
Client:
Arts Sports and Recreation Victoria
Architect:
Peddle Thorp
Engineer:
Connell Wagner Pty Ltd
Builder:
Baulderstone Hornibrook
Fabricator:
Alfasi Constructions Pty Ltd
Project Team:
Project Manager: Office of Major Projects
Products Used:
Walling
Roofing
LYSAGHT CUSTOM ORB®
LYSAGHT KLIP-LOK® 406

Melbourne's new sports and aquatic centre on the edge of Melbourne's most talked about Formula One race track at Albert Park, is beautifully folded into its site. So much so that Albert Road motorists will only glimpse images of slender white masts atop low slung steel shells beyond the avenue of trees flickering by.
Located on the north-west corner of the park on a 6.2 hectare site, it boosts the city's sporting facilities with a quantum leap. Huge without hysterical gestures of size, the centre displays balance and proportion and is now Australia's largest integrated sports and leisure facility.

Coordination of 35,000 square metres of space, some 3,000 square metres larger than the Melbourne Exhibition centre and at A$50 million for construction, less than half the budget.
Presented as a series of gently sweeping curves this is a prime example of the controlled flourish than a bland expanse of roofing. Edges swoop down along the east and main public access precinct in a series of careful scalings which reveal little of the centre's dimensions.

Few will claim this to be definitive or great architecture, but it is an important building nevertheless in the way it responds to such a demanding program of competing facilities. The structure required five cable stayed masts, the tallest being 40 metres.
The south western wall, designated for services, maintenance and deliveries is effectively concealed from the view of residents by an existing high beam to carry light rail. Steel sandwich panel walls provide the expected high thermal performance. A COLORBOND® steel roof caps the envelope with great precision contributing positively to the environmental design issue with its slim line, unobtrusive colour and gentle undulations.
Written by Peter Hyatt