New Epic Energy Gas Pipeline To Service Southern States
06 May 2009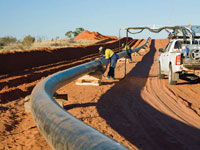 | | |
| --- | --- |
| Location: | Queensland |
| Country: | Australia |
| Client: | Epic Energy |
| Builder: | Nacap |
| Fabricator: | Orrcon |
| Pipe Coater: | APC Socotherm |
| Products Used: | PIPESTEEL™ |
A new gas pipeline incorporating 17,000 tonnes of BlueScope Steel's special API grade PIPESTEEL™ will help transport natural gas from Queensland reserves to homes and businesses in South Australia and New South Wales.
Epic Energy's Queensland to South Australia/NSW (QSN) Link, will draw on Eastern Queensland gas fields, which are some of the most productive in Australia. The 180 kilometre pipeline will link with Epic Energy's South West Queensland Pipeline in the Bowen/Surat basin and deliver gas via the Moomba to Adelaide Pipeline and the Moomba to Sydney Pipeline.
"The PIPESTEEL™ grade we supplied for this project was manufactured from a low Carbon, Manganese, Molybdenum, Niobium, Titanium chemistry," BlueScope Steel Industry Manager, Water, Oil & Gas, Dave Langley said." It has been specially developed to meet the stringent mechanical properties and field weldability requirements of high-strength, highpressure, oil and gas pipeline applications."
Local Manufacture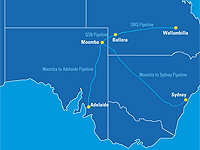 Production of PIPESTEEL™ coils, 1300mm wide and weighing 27 tonnes each, began in December 2007. Coils were delivered by road from BlueScope Steel's Port Kembla Steelworks to the Pipe and Large Tube division of Orrcon at its Unanderra pipe mill. Orrcon is an Australian company specialising in the manufacture of precision tubing, structural pipe and RHS, water pipe and API accredited oil and gas linepipe.
The coils were then formed into 19.3 metre pipes before being coated by APC Socotherm in Unanderra.
Laying of the pipeline was undertaken by worldwide underground infrastructure construction company Nacap. Construction of the 180km pipeline began in April 2008 and completed in January 2009.
Epic Energy's Project Manager Daniel Wallace said "BlueScope Steel was the only steel manufacturer in Australia that could produce and supply to the specifications required.
"The project required high strength, high pressure pipeline steel able to be fabricated into a 400mm diameter, increased from its original specification of 350mm. And we like our pipelines to be made from Australian steel whenever possible because of its quality. "
Capacity Boost
"This larger diameter will enable Epic Energy to deliver a greater volume of gas to our customers," Mr Wallace said.
BlueScope Steel's production flexibility and responsiveness to the needs of Epic Energy meant this increase in diameter could easily be achieved. An alteration of this type is not always possible when the steel is sourced, fabricated and shipped from an offshore steel mill, especially if restricted timeframes need to be met.
It took 650 semi-trailer loads to deliver the PIPESTEEL™ to site. Laying began in April 2008 with the pipeline being commissioned in January 2009.
Over one million tonnes of PIPESTEEL™ has been incorporated into more than 150 pipeline projects across Australia since it was specially developed by BlueScope Steel in 1968.
Epic Energy are in the process of calling for tenders for further expansion involving duplication of the South West Queensland and QSN pipelines. A total distance of 950 kms.