Shopping Centre Sets New Standards
22 March 2003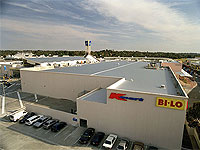 Location:
Melbourne
Country:
Australia
Project Size:
approx 55,000 square metres of ZINCALUME® steel
Client:
AMP Henderson
Architect:
Concept Design: Altoon & Porter, Los Angeles
Documenting Architects: Hames Sharley
Builder:
Tim O'Connell/Peter Southwell
Probuild Constructions
230 Albert Rd
South Melbourne VIC 3205
Ph: 03 9693 8222
Fax: 03 9693 8233
Email: toconnell@probuild.com.au
Products Used:
ZINCALUME® steel for Roofing
ZINCALUME® steel for Walling

The A$150 million redevelopment of Knox City/Towerpoint Shopping Centre in the outer Melbourne suburb of Wantirna houses major retail brands and 350 specialty stores. It has provided local residents with a massive first class shopping venue sheltered by steel.
A 750 seat cinema attached to the Knox City Shopping Centre now features a 28 metre screen - the largest in Australia.
More than 55,000 square metres of ZINCALUME® steel - made in Australia by BlueScope Steel with low maintenance requirements - has been used for roofing and walling for Knox City Shopping Centre.
"Roofing made from ZINCALUME® steel was the natural choice for the centre because it is a cost effective roofing solution that looks good and is long lasting," said Probuild Constructions project manager Tim O'Connell.
BlueScope Steel has invested more than 25 year's research and development into making lightweight, high strength ZINCALUME® steel into one of the biggest selling steel cladding ranges of its kind in the world.
AMP Henderson owns the centre and has overseen its redevelopment.
The redevelopment consists of a Loft precinct focusing on lifestyle and homewares, a Market precinct for fresh food and convenience food retailers, and Gallery North and South selling everyday goods.
The centre also has Knox O-Zone, an entertainment, dining, shopping and leisure area which features a walk flanked by 17 restaurants, cafes and bars with cuisine from around the globe.
A semi circular two storey Melbourne Circle forecourt acts as a transition between Knox City and Knox O-Zone.
The shopping centre's environment and aesthetics have been designed to capture the spirit of the Dandenong region through textures, colours, paving and landscaping.
Los Angeles based Altoon + Porter completed the concept design work for Knox City Shopping Centre. Australian based Hames Sharley were the documenting architects.
In addition to using more than 55,000 square metres of ZINCALUME® steel for the project, Probuild Constructions built the centre using 1900 tonnes of structural steel and 1350 pre-cast concrete panels to create walls, malls and ceiling structures. Over 3700 square metres of glazing was used.
Probuild has been building shopping centres for more than 15 years.