State Hockey Centre Force Field
02 August 2000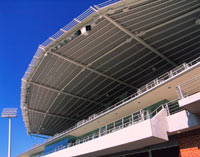 | | |
| --- | --- |
| Location: | Homebush, Sydney, New South Wales |
| Country: | Australia |
| Project Size: | A$15 million |
| Client: | Olympic Coordinating Authority |
| Architect: | Ancher Mortlock and Woolley |
| Engineer: | Connell Wagner |
| Builder: | Kell and Rigby |
| Fabricator: | Warrior |
| Products Used: | LYSAGHT KLIP-LOK® 406 |
Designed by Ancher, Mortlock and Woolley, the Olympic venue and NSW State Hockey Stadium is a surprising first for the firm. Exhibiting just the right dynamic, the project harmonises architecture and engineering. Standing tall on the western edge of the Homebush Bay site, this A$15.5 million boutique stadium is certain to make an impression well beyond its size.

The Hockey Centre is very visible on the southern side of the Olympic Park and is highly visible from the M4 Motorway.
The LYSAGHT KLIP-LOK® 406 roof incorporates conventional and semi-conventional solutions which complement the adjacent State Sports Centre. The one which seemed to best address the architect's vision of a pavilion, utilised the single cable stayed mast.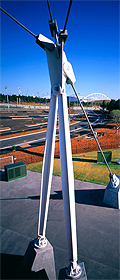 In normal use the stadium provides for 5,000 spectators - 1,500 in the grandstand, 1,500 on the terraces and 2,000 on the grassed banks around the pitch. The terrace level is configured to accommodate temporary Olympic seating, operational and spectator facilities and a variety of access all on a flat surface. During the Olympics, capacity was increased to 15,000 with temporary seating installed around the pitch.
The cable roof structure is light and inherently efficient. It utilises tension to transfer all vertical load from both dead load and wind load. It also readily allows the desired roof shape which angles toward the front and is curved in plan. In terms of spectators, this allows more people to be under cover with less roof area than other more conventional roof profiles.
Written by Peter Hyatt