Steel House Sharp Shooter
02 August 2000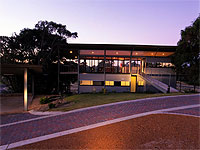 Location:
Billingup, Western Australia
Country:
Australia
Construction Date:
March 2006
Project Size:
180 square metres (house) 45 square metres (deck)
Client:
BlueScope Steel
Architect:
Grose Bradley: James Grose, Walter Carnato & Fleur Kay
Engineer:
Van Der Meer & Associates
Builder:
Doric Constructions
Fabricator:
Project Industries
Products Used:
Walling
Roofing
LYSAGHT CUSTOM ORB®
LYSAGHT MINI ORB®

The West isn't all that wild any more. If it ever was. But plenty of home-buyers in Western Australia (and Australia for that matter) wish new residential design was just a little wilder, a little sharper. James Grose and BlueScope Steel have formed a productive alliance in recent years. Wunderkind Grose has helped put steel on the map with his assured compositions.
His design at Lakewood Shores, Binningup, 160 kilometres south of Perth is virtually a solo voice in the urban sprawl. The house is designed to provide home buyers with an environmentally responsive option. Architects have been slow to penetrate the residential market utilising the benefits of pre-fabrication.

BlueScope Steel has long eyed a larger share of the residential market. And not without just cause. It argues that considerable independent research into ecologically sustainable development (ESD) is on its side. BlueScope Steel certainly remains optimistic.
The Grose design is simple, rational and canny marketing. It is audacious by existing standards because there is no ready precedent or comparison in the display home market. A growing number of display houses incorporate steel frames but these rarely exploit steel's structural capabilities in their expression.
Most of these attributes are offered by Grose's design although he has spread the load over two levels. In the process it confronts the facade driven brick and tile housing estates which line the Old Coast highway between Perth and Bunbury.
Written by Peter Hyatt