Student Housing Sets Stylish New Standards
18 February 2004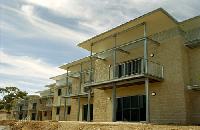 Location:
Flinders University, Adelaide, South Australia
Country:
Australia
Project Size:
A$10 million
Architect:
Grieve Gillette Architects
Builder:
Gerd & Sandra Renneison
Alpine Constructions
168 Melbourne Street
North Adelaide SA 5006
Ph: 08 8360 8000

Products Used:
TRUECORE® steel

Flinders University is creating a new benchmark for architectural style with a new 200 bed student housing village in Adelaide. A novel consultative approach adopted by the university, the architect and builder, enabled the three parties to fully explore all elements of the proposed project to maximise its effect and functionality, all comfortably within time and budgetary requirements.
The success of the collaboration between the Flinders University, Grieve Gillette Architects and Alpine Constructions is becoming more and more evident as the landmark Flinders University Student Accommodation Project nears completion.

The A$10 million complex of 40 architecturally designed two storey apartments on the Bedford Park campus incorporates the latest design approaches to student housing from Australia and overseas.
The village atmosphere being created recognises the social and supportive needs of local and international students living away from home, some of whom are also familiarising themselves with an unfamiliar culture.

Students from Australian country areas and overseas will live in a residential environment where they can mix and form a community that will support them throughout their academic years.
Steel building frame technology made from ZINCALUME® steel is at the heart of the buildings for design flexibility and to provide the highest quality building construction standards.
Steel building frames were used to achieve advantages including construction flexibility and accuracy, termite resistance and material stability.
The use of steel creates confidence because it is not subjected to termite attacks and its inherent stability also makes it impervious to weather conditions during construction and consequently minimises maintenance.
The project showcases the latest expression of contemporary Australian architecture that will allow the students to feel completely at home and incorporates a community centre with a cafe and outdoor barbecue areas.
The units occupy a commanding position on a hillside above the university campus with sweeping views towards the coastline and Adelaide city whilst providing quality student housing that meets current and future needs from a technological and socially interactive viewpoint.