Sunshine Coast University & Cranbourne TAFE
02 August 2000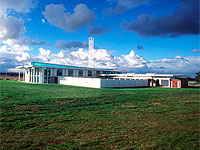 | | |
| --- | --- |
| Location: | Sunshine Coast University, Queensland; Cranbourne Tafe, Victoria |
| Country: | Australia |
| Project Size: | A$4.4million |
| Architect: | Claire Design P/L - Woods Bagot |
| Engineer: | Taylor & Assoc. / Clive Steele & Partners |
| Builder: | Hutchinsons / L.U. Simon Builders P/L |
| Fabricator: | Betta Structural Steel / Cojo Steel Fabricators |
| Project Team: | Kerry Clare, Lindsay Clare, Jeff Lee, Scott Chaseling, Stephen Cameron / Mark Kelly, Albert Cheah, John Talif, Marija Cakarun |
University campus architecture has arrived with all the whoosh of a 300 kilometre per hour bullet train. Rather than standing dolefully in the queue, everyone is jumping on board. Gone too is so much of the mean-minded campus architecture done dirt cheap which committed learning to grim bunker environments.
The high visibility and appearance of buildings by Clare Design and Woods Bagot has nothing to do with brassy colours or the big statement.

Lindsay and Kerry Clare's sports and recreational building is a frisbee throw from Nield and Mainwaring's library icon at SCUC and it demurs beautifully without being humbled in the process. South to Victoria, the Cranbourne campus of TAFE, 45 kilometres south-east of Melbourne, is impressive as a cornerstone building on a greenfields site.
Designed by Woods Bagot, it advances the modernist aesthetic of heroic classicism riven in steel and infilled with glass.

The Clares' design appears half glider and half jump jet that took just six weeks to design, document and tender and 12 weeks for construction, fit-out and delivery. The stepped COLORBOND® steel roof forms and east west verandahs combine to reduce heat load and glare as well as providing a fantastic thinness of edge.
In both projects the emerald horizontality is complemented by little more than a brush-stroke of steel and glass. Both become outside rooms in a way that extends interior space. Slender and laid bare, they express a delight in breaking the rules that have kept students in the dark for so long.
Written by Peter Hyatt