Sydney Aquarium Upgrade Liquid Assets
02 August 2000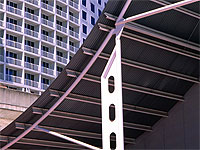 Location:
Darling Harbour, Sydney, New South Wales
Country:
Australia
Project Size:
A$16 million
Client:
Sydney Acquarium Ltd
Architect:
Peter Reed & Assoc with Diane Bernstein Design Pty Ltd;
Peter Reed with Diane Bernstein
Engineer:
Northrop Holmes
Builder:
Cordukes
Fabricator:
Steelmet
Products Used:
Ultra Range
LYSAGHT CUSTOM ORB®
LYSAGHT CUSTOM BLUE ORB®
LYSAGHT KLIP-LOK® 406

Darling Harbour is now near development saturation point. Theatres, hotels and a casino all compete mightily for the tourist dollar. A major upgrade has doubled the size of the Sydney Aquarium but almost gone unnoticed. The aquarium's creamy, rolling steel form, an ocean swell or breaker no less, has weathered well since its completion for the 1988 Bi-Centennial celebrations. This second stage keeps faith with an aesthetic central to the harbour's identity.
Big changes have been afoot for the past decade and Philip Cox's delicate triangle of maritime projects of masts, sails and shells is under siege. His strategic markings of steel and glass reflected as shimmering water colours, are now almost obscured.

Few projects appear to have a more altruistic, public spirited quality than Cox's lyrical work from the late 1980's. These projects have the poise and presence of white swans compared to much of the commercial clutter now choking dockside.
His work has a diamond cutters clarity of curved steel shells, cliff face glazing and soaring masts. It is distinctively his and true to Australia in a way few can claim.

Diane Bernstein proves a competent choice second time around for the A$16 million upgrade. For this project she joined forces with Peter Reed and Associates and the solution is one of qualified surprise because the pair resist the temptation to produce work of radical difference.
Stage two is similar in size to the original pier building and measures 2,690 square metres. Of this 1,222 square metres is exhibition area, 480 square metres for administration and 313 square metres of retail. The venue's extensive use of COLORBOND® XSE* steel and LYSAGHT CUSTOM ORB® will ensure that its appearance in harsh conditions is not compromised.
Written by Peter Hyatt
*COLORBOND® XSE steel has been replaced by COLORBOND® Ultra steel