Twin Blade - Non Disposable
02 August 2000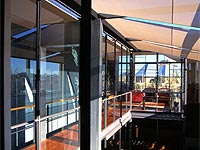 Location:
West Perth, Western Australia
Country:
Australia
Construction Date:
December 2005
Project Size:
A$240 000
Client:
Erwin Swasbrook & John Dickson
Architect:
Donaldson and Warn:
Dick Donaldson
Engineer:
Wood & Grieve
Builder:
Lincoln Constructions
Fabricator:
Tomlinson Welding
Products Used:
Roofing
LYSAGHT CUSTOM ORB®

Inner city housing demands the compression of ideas. This, if for no other reason, is why recent duplex developments in Perth should be acknowledged. Dick Donaldson in Highgate displays the fine art of bonsaied building with an expanded vision. This project doubles the possibilities in half the space.
Donaldson's classy duplex was an emphatic winner of this year's George Temple Poole Award - the State's highest individual architectural honour. Plenty of inner city developments resort to the flim flam of gleaming appliances (imported naturally), a plethora of gadgets and lustrous fabrics to disguise limitations.

Donaldson's duplex produces spaces rarely found in inner city apartments. A sheltered courtyard spanned by sails above and filtered by batten elements to the east and west, provide crystal visibility and relaxed privacy.
The envelope is a combination of structural steel and masonry with the feature elements the filigree steel window frames which rise over two levels around the U-shaped courtyards. The further use of full height steel window frames to the south provides a refined module for city vistas as well as indirect light.
Perth's temperate climate and low humidity is ideal for opening up houses which can suck in air and light. Donaldson's door/windows onto the double-height courtyard and top floor open fully to effectively remove visual and physical interference. The general sense of structural lightness throughout is accentuated by the thinness of the roof lines achieved with LYSAGHT CUSTOM ORB®.

Decks at the front and rear of each apartment provides the opportunity to take advantage of prevailing breezes, sunlight and shade. Donaldson's apartments represent the potential for higher density occupancy levels to a very high level of amenity.
Written by Peter Hyatt