Determine XLERPLATE® Weldability
Table 1: Weldability Guide
Grade Designation
Group Number
Qualifying Notes
XLERPLATE® Structural Grades - AS/NZS 3678

250, 250L15
300, 300L15
350, 350L15
400, 400L15
450
WR350 (AUS TEN)

4
4
5
5
5
5

O
H/O
H/O
H/O
H/O
H/O
XLERPLATE® Analysis Grades - AS/NZS 3678
A1006
K1042
1
8
O
H, SC,SR
XLERPLATE® Boiler & Pressure Vessel Grades

AS 1548 - 7 - 430
AS 1548 - 7 - 460
AS 1548 - 7 - 490
AS 1548 - 5 - 490

4
4
5
5

O
O
H/O
H/O
XLERPLATE® Coil Plate

HA1
HA1006
HA1010
HA200
HA250
HU300, HA300/1
HA350
HW350
HXK15B2B

1
1
1
1
3
3
4
5
8

O
O
O
O
O
O
O
H/O
H, SC, SR
To find the welding energy input and the preheat temperature required for use with a particular welding process on a particular steel of known thickness, the steps given below should be followed:
Step 1: From Table 1 find the "Group Number" for the steel grade. For joints containing different steels use the higher Group Number.
Step 2: Using Figure 1 calculate the "Combined Thickness" of the joint.
Step 3: From Figure 1 find the closest curve to the intersection of Combined Thickness and Group Number. This curve designates the "Joint Weldability Index Letter".
Step 4: From Figure 2 and using the curve bearing the same Joint Weldability Index Letter found from Step 3, read off the preheat temperature for the welding energy input or vice versa.
Steel Grades and Group Numbers
Qualifying Notes

O - Any electrode type or welding process is satisfactory,
H/O - Hydrogen controlled electrodes, or semi-automatic, or automatic processes are recommended; but rutile or other electrodes may be used.
H - Hydrogen controlled electrodes, or semi-automatic, or automatic processes are essential for good welding.
SC - Slow cooling from welding or preheat temperature is recommended.
SR - Postweld heat treatment (stress relief) is suggested for high quality work, particularly where severe service conditions apply to the component.
Figure 1: Method of establishing Joint Weldability Index (A to L) from Grade Group Number and Joint Combined Thickness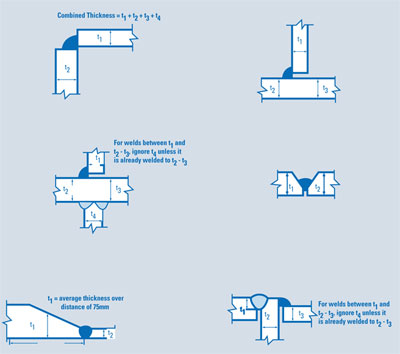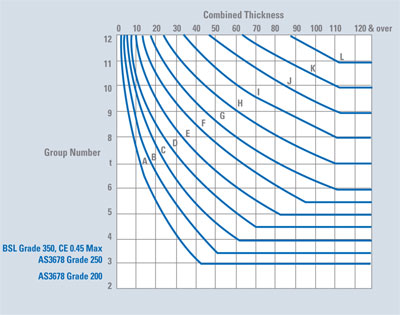 Figure 2: Method of establishing Pre-heat Temperature using Joint Weldability Index Letter and Welding Energy Input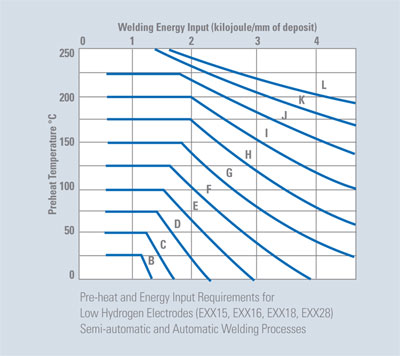 Pre-heat and Energy Input Requirements for
Low Hydrogen Electrodes (EXX15, EXX16, EXX18, EXX28)
Semi-automatic and Automatic Welding Processes.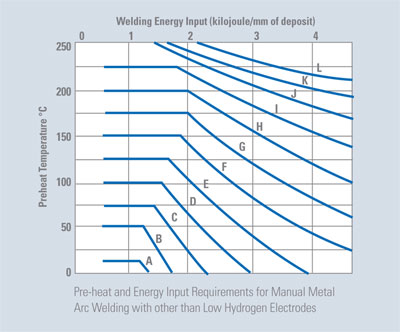 Pre-heat and Energy input Requirements for Manual Metal
Arc Welding with other than Low Hydrogen Electrodes.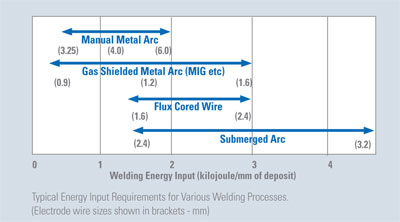 Typical Energy Input Requirements for Various Welding Processes.
(Electrode wire sizes shown in brackets - mm.)
Reproduced from WITA Tech Note 1 with permission.