Marking and Identification of XLERPLATE® steel Products
The traceability of product throughout the manufacturing process is maintained by computer tracking and physical identification. The most important product identifiers are the plate serial number or coil number. It is also important that heat number, material grade and dimensions are retained. This information is clearly presented on the final product by stencil or sticker and is also recorded on accompanying documentation.
Verification of Identity
Verification of product identification should be made on receipt of product. The maintenance of the identification throughout storage or in further processing is the customer's responsibility.
Plate Stencil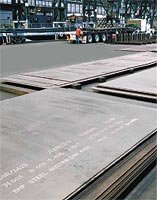 The Works standard practice is to mark each plate with a stencil. The stencil contains the following information:
customer name
destination
size
heat number
steel grade
serial number
gross mass
BlueScope Steel order and item number
XLERPLATE® brand identifier
Plate Label
XLERPLATE® steel is also identified by a label stuck on the surface of the plate and wrapped around the plate edge. The label has the plate serial number in alphanumeric characters and a barcode containing the following information:
XLERPLATE® Coil Plate
BlueScope Steel custom processors cut coil to length. It is a requirement to stencil all cut plate with coil number, heat number and grade. Additional special customer information may be included within these markings on enquiry.
XLERPLATE® Floor Plate
Plate mill rolled floor plate is stencilled as for normal plate.
Cut to length coil floor plate is generally not stencilled due to restrictions of roller type stencilling equipment.