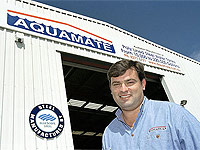 Aquamate's Tanks Crucial to Tackling Water Shortage
04 May 2005
South Australian water tank manufacturer Aquamate's business has doubled in just three years as awareness of the need to save water takes hold. Customers are turning to Aquamate's rainwater tanks to store water as drought, climate change and water restrictions make an impact throughout large areas of Australia.
Adelaide based Aquamate supplies tanks to residents of rural areas where mains water supply is not available, and to businesses in need of tanks to feed fire sprinkler systems.
The tanks, with capacities ranging from 50,000 to one million litres, are used for large volume storage of rainwater or bore water. Aquamate builds tanks from steel rollformed by BlueScope Lysaght before transporting them to the customers' premises and installing them.
The company, with just a dozen employees, has recently invested in new machinery to allow it to better customise tank sizes to customers' needs. Company owner Danny Di Iorio purchased Aquamate four years ago and has won orders from Victoria, southern New South Wales and the Northern Territory.
Mr Di Iorio said that when he purchased Aquamate four years ago, it was already being supplied by BlueScope Lysaght. "I'm happy with the quality of their products and their supply rate. I used to work in the plastics industry, but the transition to steel was made easy because BlueScope Lysaght staff are always willing to provide advice on the best application of their products," he added.
"We tried imported steel once but we noticed the difference immediately and we've been sticking to genuine Australian steel from BlueScope Lysaght ever since. We simply don't compromise on it now. By joining the Steel By Brand Partnership Program, we make it clear to our customers that we don't dabble in cheap, imported or second rate materials."
For more information:
Danny Di Iorio
Aquamate
Ph: 08 8277 5777