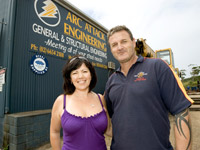 Arc Attack Bathes In North Coast Boom
30 April 2008
A husband and wife team who started a structural and general engineering business in 1997 on one of Australia's most popular holiday strips now have a full time staff of 15, after making the most of the possibilities of steel in the economic boom.
Warren and Sheenah Whitten celebrated 10 years in business on the New South Wales north coast in early December.
They have seen their Woolgoolga based company ARC Attack Engineering grow from a 20 metre by 30 metre shed to a 2,200 square metre premises, including a new fabrication section with three overhead cranes.
Twenty four kilometres north of Coffs Harbour, Woolgoolga is popular for its unspoilt beaches, the Solitary Islands Marine Park, whales and dolphins along its coastline, the Guru Nanak Sikh temple, cafes and restaurants.
It's also the location for one of the region's most successful engineering companies.
ARC Attack owner Warren Whitten said ARC Attack Engineering had no trouble delivering to its markets, which stretch 170km south to Port Macquarie.
"Like anywhere in Australia the competition is tough, but we've managed to double our turnover every year since we started," he said.
"We don't turn away any genuine business no matter how big or small, so I guess that's why we have grown."
One of the biggest jobs ARC Attack has undertaken was the new Coles retail development in Port Macquarie that began in February, 2007.
It was completed not long after ARC Attack celebrated its 10th anniversary in December.
The project involved ARC Attack installing a total of 324 LYSAGHT SupaZed® 12 metre long purlins.
Other jobs in which the company has used LYSAGHT® products include a hospital and a rural medical centre, both located in Coffs Harbour, and a Catholic school in Port Macquarie, witnessing the strong economic growth along this part of the eastern seaboard.
In addition to LYSAGHT® building products, ARC Attack is an enthusiastic user of COLORBOND® and ZINCALUME® steel from BlueScope Steel.
"We recently used COLORBOND® steel for a bus shelter in Bellingen," Mr Whitten said. "Our philosophy has been to undertake any job, from building chairs, to repairing boats using XLERPLATE® steel. The more jobs you do, the more jobs come your way."
He said being a member of the STEEL BY™ Brand Partnership program had helped ARC Attack grow by adding credibility to ARC Attack Engineering's presence in the local market.
"There are further opportunities to leverage our STEEL BY™ membership to enhance our market share into the future," Mr Whitten said.
"When we first started, it was Sheena and I, and one other full time staffer. We've managed, using steel from BlueScope Steel, to stay ahead of the market in terms of growth and to deliver a quality service to diverse groups of clients."
"We are very well placed to build on our first 10 years, and I believe ARC Attack's best years lie ahead."
For more information contact:
Warren Whitten
ARC Attack Engineering
Ph: 02 6654 2188
www.arcattack.com.au
More about these products