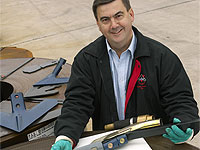 Aussie Invention Fast Tracks Farming
21 July 2006
A patented locking system for farm machinery is revolutionising the way Australian farmers plant and manage their crops. Invented by South Australian based Agpoint Australia, the system speeds up weeding and planting processes by enabling farmers to swap machinery attachments , like points and sweeps, in minutes rather than hours.
"The conventional method of securing these attachments uses bolts to hold the knife points in place. However we've invented a slim wedge locking system that's just as secure, and makes points easier to replace," Agpoint national sales manager John Thompson says.
The average replacement process can now take 15 minutes rather than two hours. Agpoint Australia invented the system to address the growing demand for minimum tillage, which requires machinery attachments that are harder wearing than before.
Minimum tillage means farmers spend less time preparing and cultivating the soil due to the use of weed killing chemicals and modified machinery, so the soil is disturbed less and holds more moisture. However, the downside is that soils are harder, and take a greater toll on farming equipment.
"Broad acre farming, wheat, barley crop and the like, is our biggest market, but we also supply products to cotton and sugarcane farmers," John says.
Agpoint Australia produces more than 700 hard tool products for farming, and supplies knife points and sweeps nationally and internationally through an extensive network of dealers and distributors.
Backed by 139 years experience in the agricultural manufacturing industry, the company is Australia's leading manufacturer of points and sweeps.
"We source more than 2,000 tonnes of XLERPLATE® steel coil plate and XLERCOIL® steel a year," John says.
Agpoint Australia uses a special heating process to turn the BlueScope Steel products into hard tools that can service about 6,000 hectares (15,000 acres).
"If we're making knife points, the plate is profile cut, goes to the furnace where it reaches temperatures up to 1,000 degrees Celsius, then gets hot formed, pressed, water quenched, tempered, machine surfaced and soldered," he says.
John says Agpoint Australia plays a key role in the future of Australian farming because of its dedication to research and development.
"Many farmers around the world use our products, but don't know where they come from or how they're made. So we run a series of farmer information nights where we demonstrate and explain what's involved," he says.
Agpoint Australia has 55 employees and joined the Steel Supplied By BlueScope Steel Brand Partnership Program to promote Australian made products.
"Farmers recognise the need to support their own and so do we," John says. Agpoint Australia's membership of the BlueScope Steel Brand Partnership Program allows the company to display BlueScope Steel signage and gain leverage from BlueScope Steel's quality reputation.
For more information contact:
John Thompson,
National Sales Manager, Agpoint Australia,
Ph: 08 8525 3509