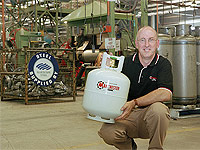 Australian Made Tanks Find New Markets
03 May 2005
The Australian division of a world leader in the manufacture of storage cylinders and tanks for LPG, chemicals and compressed air has begun to export to Thailand. The Australian operation of Manchester Tank & Equipment, based in Echuca, Victoria, also exports to New Zealand, the Pacific Islands and South America in addition to supplying the Australian market.
Exports account for up to 10 per cent of the company's total production in Australia.
General Manager Mark Inglefinger said the tanks were a specialised product area which offered customers major benefits.

"It's vital to use quality products to store hazardous gases," he said. "We use lightweight, high grade steel from BlueScope Steel which means the gas in the tanks is safer and easier for our customers to handle."

The steel is designed not to fracture, a key reason why Manchester uses steel from BlueScope Steel to manufacture the tanks. Mr Inglefinger said Manchester's customers included all the major LPG distribution companies, wholesalers and retailers of camping and BBQ products, distributors of automotive LPG conversion kits and refrigerant gas distributors.

He said Manchester used quality Australian materials and components wherever practical because it believed it was important to support Australian industry.

"Our tanks range from 1.25 kilograms through to 170 kilograms in gas capacity and are manufactured in Australia using Australian materials," he said. "We use steel products supplied by BlueScope Steel and many of our customers care strongly about supporting Australian industry, ELGAS, for example, insists on using Australian made products."

Manchester Tank & Equipment has joined the Steel By Brand Partnership Program and displays signs indicating that it uses steel from BlueScope Steel.

Manchester's plant in Echuca Victoria is the company's only facility outside the United States. It employs approximately 100 people and produces 450,000 to 500,000 pressure vessels per year.
For more information:
Manchester Tank & Equipment Co.
Ph: 03 5482 0500