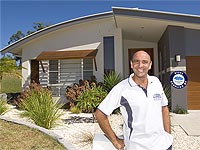 Award Winning Homes with a Beach Resort Feel
09 June 2006
A Coffs Harbour housing company specialising in beachside homes is fast building itself a reputation for award winning innovation.
Withers Homes Managing Director Tony Withers says every display home built by his company has won awards, with the latest design picking up both regional and national awards. Judges described the house as "modern", "innovative" and "great value for money".
Tony says the company's award winning formula is due to a desire to build homes that "people can walk into and feel as if they're at a resort."
He says that while Withers Homes produces a number of standard designs, many of the houses built for the "beachy" New South Wales North Coast incorporate al fresco dining areas, open plan living, tiles and water features to create a relaxing, resort-like ambiance.
Tony says one of the advantages of choosing Withers Homes is the company's flexibility. It recognises that many clients may want to alter the design mid way through a project, and his company is happy to accommodate that.
Withers Homes uses only COLORBOND® steel by BlueScope Steel in LYAGHT CUSTOM ORB® profile. "We wouldn't use anything else. COLORBOND® steel is a good quality product and there's a strong guarantee if there's ever a problem, which there never has been."
Withers Homes is also a member of the Steel By BlueScope Steel Brand Partnership Program, which Tony says has provided him with valuable exposure.
"Our awards have been highlighted in Steel Supplied By magazines," he says.
For more information contact:
Tony Withers
Ph: 02 6672 2200

More about these products