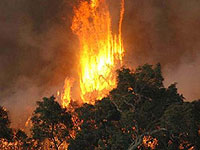 BlueScope Steel Announces $1 Million Bushfire Recovery Package
16 February 2009
BlueScope Steel today committed $1 million in steel products and building solutions to help rebuild communities destroyed by the Victorian bushfires.
BlueScope Steel has a unique capability in steel building materials and the design and construction of pre engineered buildings. An in house taskforce has been mobilised to explore ways the company can directly assist fire damaged communities in greatest need.
BlueScope Steel Managing Director and CEO, Mr Paul O'Malley, said: "The thoughts and sympathy of all BlueScope Steel people are with all those affected by the horrific bushfire tragedy in the state of Victoria.
"The Company will work with aid agencies and government authorities to provide product and construction expertise to rapidly rebuild key community infrastructure in the worst affected regions", Mr O'Malley said.
BlueScope Steel is also encouraging its 20,000 employees worldwide to donate to the Red Cross Victoria Bushfire appeal.