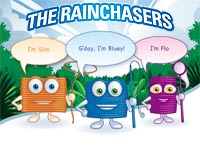 BlueScope Steel Launches The Tank A Day Challenge For Primary Schools
16 May 2007
BlueScope Steel today launches the Tank a Day Challenge, which will provide a rainwater tank to a successful primary school in Australia every school day for the next year.
"We're giving away 200 rainwater tanks, one for every day of the school year," said Kirby Adams, BlueScope Steel Managing Director and Chief Executive Officer. "Our aim is to help primary schools kick start their water conservation programs".
"In a drought stricken continent like Australia, we must all learn to better manage and conserve our precious fresh water resources. The Tank a Day Challenge allows BlueScope Steel to share its expertise in water management and conservation with the broader community, and what better place to start than at our schools".
"Primary schools that receive a tank will be able to use rainwater for watering flower beds, gardens and vegetable patches, cleaning and a host of other uses. They will also minimise storm water run off into their local eco system, take pressure off the mains water system, and help reduce school water bills".
"We want to give young children, in particular, an opportunity to learn how they can improve and protect their school facilities, be clever at managing water and help solve a major issue in the community," said Mr Adams.
The Tank a Day Challenge aims to encourage water saving practices in primary schools. It gives children a forum to demonstrate their commitment to water conservation.
A new website, www.tankaday.com.au has been created featuring a variety of fun activities and education materials designed to teach young Australians about the water cycle and water saving tips. It features the colourful 'Rainchasers' characters who take students on the water saving journey.
The Challenge is open to all of the 6,500 plus government and non government primary schools in Australia.
To participate in the Tank a Day Challenge and be eligible to receive one of the 200 rainwater tanks, primary schools must:
Register their school, only primary school principals will have authority to do this, on the dedicated website www.tankaday.com.au. In the registration process, principals must outline why water is important to their school and what efforts the school is taking to conserve water.
Demonstrate student involvement in the Challenge through participation in an educational water saving quiz.
Make available a 6x6 metre site adjacent to a school building with working guttering to accommodate a rainwater tank.
"We are inviting primary schools to take up the online water conservation challenge to win a rainwater tank for their school," Mr Adams said.
The www.tankaday.com.au website is live from today (16 May 2007). There will be weekly announcements of the successful schools that receive a rainwater tank commencing from the beginning of Term 3 in mid July 2007.