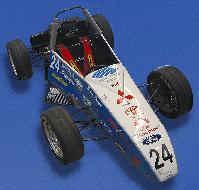 BlueScope Steel Steers Graduates Towards a Winning Future
01 March 2005
The University of Wollongong (UOW) Formula Team, sponsored by BlueScope Steel, won its third Australasian Formula Society of Automotive Engineers Australasia (SAE-A) title in four years at the 2004 championships held in Werribee, Victoria, in December 2004.
The UOW FSAE-A Team, led by Michael Schilling, a final year engineering student, beat 24 other Australian and international university teams to take the Australasian title with outright honours.
The annual Formula SAE-A competition is based on the design, construction and competitive driving of a small, single seat, motor sport vehicle. The competition involves accumulating points in each of eight events. Three static events, including a 'sales' presentation and justification of the engineering design, enable teams to accrue points for innovative, functional engineering. Also, the competition encourages teams to find an optimum balance between performance and expense as points are awarded for the cost effectiveness of the design.
On the track the cars do not race wheel-to-wheel but are timed as they complete various dynamic stages. These include a figure 8 skid pad, a straight line acceleration run and a short, tortuous road course for the autocross and endurance events. Fuel economy is also measured in the endurance event with points awarded for high fuel efficiency.
As a supplier to the automotive industry for over 50 years now, and having sponsored the UOW Formula team since its formation over four years ago, BlueScope Steel aims to support the automotive industry by investing in the local community to encourage the development of local engineers.
Duart McLean, automotive OEM Marketing Manager at BlueScope Steel, said: "BlueScope Steel's support for such an event provides a unique opportunity for young engineers to hone their skills in a real life environment."
"The skills in project management and team building developed in this program provide graduate engineers with an enhanced skill level keenly sought after by the automotive industry, which is currently experiencing a shortage of engineering talent."
The competition allows students to experience the practical side of their academic discipline, including working in a team environment and multi-tasking, to achieve defined goals by the set deadline.
To view a related story see our page:
Formula SAE: The Steel City Racer