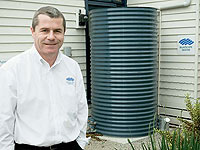 BlueScope Water Rises To Tank Demand In Victoria
18 July 2007
BlueScope Water is positioning itself to meet exponentially rising demand for rainwater tanks and rainwater harvesting systems in Victoria.
The company's Victorian and Tasmanian Regional Manager Darren Howse said that while 70 to 80 per cent of all residential properties in the state could be fitted with rainwater tanks or harvesting systems, fewer than five per cent currently were.
"However, our research shows that a significant percentage of Victorian homeowners want to drought proof themselves by installing rainwater tanks, so there's enormous potential demand," Mr Howse said.
At present, the company's Melbourne manufacturing facility is producing tanks of various shapes with capacities ranging from 2,000 to 8,800 litres.
To meet the challenges of increasing market demand, production capacity is currently being increased to enable BlueScope Water to continue to be a market leader over the next 12 months and into the future.
These tanks include BlueScope Water's WATERPOINT SLIMLINE® and WATERPOINT CLASSIC® tanks, the THINKTANK® system (which includes a WATERPOINT® tank, first flush diversions, water filters, mains water backup and pressure pump to the household plumbing) and the WATERPOINT INGROUND® system for newer residential developments.
The company is now supplying WATERPOINT ULTRASLIM® tanks, which are 550mm wide and manufactured to various lengths, with capacities up to 2,000 litres.
All BlueScope Water steel tanks are manufactured from AQUAPLATE® steel and supported by a 20 year product warranty.
"We have our own dedicated contract installers, as well as a full time plumber who trains these installers and keeps them abreast of current developments in rainwater tanks and rainwater harvesting systems," Mr Howse said.
"With Victoria's main reservoir capacity currently hovering around 17 per cent, the community is acutely aware of the need to capture rainwater for a range of domestic and community uses."
For more information contact:
Darren Howse
BlueScope Water Vic/Tas
Ph: 1800 654 774
www.bluescopewater.com.au