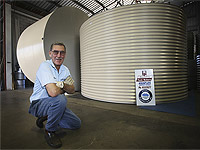 Bundy Goes Well with Water
21 August 2006
Rum might run through Bundaberg's veins, but locals want more water. Home to the iconic Bundaberg Rum factory, the city is one of Queensland's property hotspots, attracting retirees and young families from southern states with cheap land not connected to the mains water supply.
Local company Bundaberg Tank Makers is coming to their rescue with a range of rainwater tanks made from BlueScope Steel products. "We're providing water to the entire home," Bundaberg Tank Makers owner Kevin Beveridge says. "Most new homeowners need one or two 22,500 litre tanks."
That water, however, still needs to be used wisely.
"You can't run appliances like dishwashers all the time, or water your garden, unless you're lucky enough to have a bore," Kevin says.
Bundaberg Tank Makers manufactures mostly 22,500 litre round tanks for acreages without town water, but the company also makes smaller oval shaped tanks for homes hooked up to the town water supply.
"All the company's rainwater tanks are made from AQUAPLATE® steel. The bottom of the tanks is double sided, providing protection inside as well as underneath."
AQUAPLATE® steel, specifically designed for use in tanks, is easy to maintain, corrosion resistant and coated with a food grade polymer for clean tasting water.
"Rainwater stored in tanks made from AQUAPLATE® steel definitely tastes better than that from any alternative steel tanks," Kevin says.
Bundaberg Tank Makers manufactures and delivers about five 22,500 litre tanks a week in a galvanised finish or one of three prepainted colours.
"Modern home owners like the tanks to match their homes," Kevin says. "We sell a lot of AQUAPLATE® steel in the colour Paperbark®."
Bundaberg Tank Makers is a member of the Steel Supplied By BlueScope Steel Brand Partnership program and proudly display signs indicating that it uses steel from Australia's leading supplier.
Since starting the company in 1989, Kevin says he's used only products from BlueScope Steel in his tanks because he and his customers can rely on the quality after-sales service and warranty support.
"In my industry, many companies provide warranties that go out the window when the company changes hands, but when I give someone a warranty, I'm giving them a BlueScope Steel warranty for 20 years* so I'm offering them security," he says.
For more information contact:
Kevin Beveridge,
Bundaberg Tank Makers,
Ph: 07 4153 2877
* Warranty subject to terms and conditions. For more information please see our page Warranties for Peace of Mind
More about these products