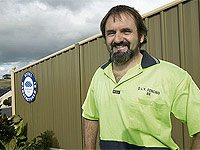 Buy Australian Made, Local Fencer Urges
26 July 2005
A South Australian fencing company is urging consumers to keep buying quality Australian made steel products. Mt Gambier's Do It Yourself Fencing supplies, or supplies and fits, domestic and industrial fencing.
With 20 years experience in the fencing industry, owner Chris Annear has built many fences with COLORBOND® steel, as well as some timber, mesh, security and temporary fences. He established Do It Yourself Fencing two years ago.
"We want customers to support Australian made products such as COLORBOND® steel from BlueScope Steel, as we are becoming increasingly alarmed by the overall poor quality of some imported steel products," he said.
"Firstly, some imported product may not last and could fade quickly. The colour matching can quite often be bad as well. We are doing everything we can to raise consumer awareness and encourage people to ask for genuine COLORBOND® steel."
He said COLORBOND® steel was strong, long lasting, and suitable for applications ranging from outdoor entertaining areas, wide open spaces or factory boundaries.
An occasional hose down, eliminating soil contact and removal of debris is all that is needed to keep a fence made from COLORBOND® steel looking good.
Do It Yourself Fencing joined the Steel By Brand Partnership Program, and displays signs indicating that it uses steel from Australia's leading supplier.
"We are proud to be affiliated and working together with BlueScope Steel to provide reliable fences and support Australian made industry," Mr Annear said.
For more information:
Chris Annear
Do It Yourself Fencing
Ph: 08 8723 2082