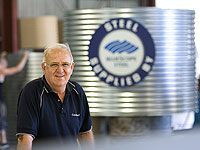 Cooroy Company Cranks Up Production Of Rainwater Tanks
20 June 2007
A Sunshine Coast hinterland company has established a second rainwater tank manufacturing factory and a new showroom to tap into south east Queensland's rapidly growing water tank market.
Cooroy Sheet Metal and Tank Works, established in the 1980s by Managing Director Brian Durrington, fabricates round and slim water tanks, and roofing made from BlueScope Steel products.
"Rainwater tanks account for about half our company's sales," Brian says. "We sell up to 80 tanks a week made from AQUAPLATE® steel, with capacities ranging from 200 litres to 22,500 litres."
Cooroy Sheet Metal and Tank Works services a region extending north to Maryborough, west to Kingaroy and south to Brisbane, selling its tanks directly to the public and through agents in the Brisbane metropolitan area.
The company fabricates tanks at one of two factories at Cooroy and has recently opened a third manufacturing facility at Gympie.
"This factory is expected to shorten our turnaround on tank orders," Brian says. "We aim to have eight workers fabricating 50 tanks each week by late 2007."
Cooroy Sheet Metal and Tank Works employs 25 people and has built a new rainwater tank and roofing showroom at Caloundra.
The family run company is a dedicated user of BlueScope Steel products, and a member of the STEEL BY™ Brand Partnership Program.
"We've been fabricating rainwater tanks from AQUAPLATE® steel and other BlueScope Steel products for more than 20 years," Brian says. "AQUAPLATE® steel is a product that stands the test of time, carries BlueScope Steel's 20 year product warranty, and delivers clean tasting water because of its food grade polymer liner."
Cooroy Sheet Metal and Tank Works also fabricates roofing and roofing accessories such as guttering, flashings and fascias.
"We can supply a full roof on the same day a customer orders it, provided the order is placed before 10am," Brian says.
He says his company fabricates about two roofs a day.
For more information contact:
Brian Durrington
Cooroy Sheet Metal and Tank Works
Ph: 07 5447 6066