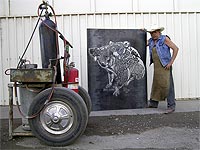 Creating Art with An Oxy-Torch
09 June 2006
You won't find Ron Clarke's work hanging in trendy Sydney galleries or dotted among minimalist new age sculpture gardens. Instead, look for his unmistakable artworks as you pass through Australia's tiniest rural towns or spot them nestled above commercial buildings or even on clubhouse walls.
Ron began creating steel silhouettes using hot rolled coil from BlueScope Steel in the mid 1980s and admits it took him months to perfect his original technique.
"I was obsessed with it. If someone was talking to me I wouldn't be listening. I'd be looking at their face thinking, 'How would you cut that? How would you do their face?,'" he says.
Since then, Ron, who speaks with a thick Cockney accent despite emigrating from England in the 1950s, has created hundreds of sculptures including five foot high bakers designed to stand outside bakehouses, oversized koalas, teams of silhouetted Clydesdale horses and even Ned Kelly.
"I've always really liked silhouettes," says Ron, who uses an oxy torch to sculpt from 3mm hot rolled coil.
It can take him between two hours and several weeks to create a sculpture, which he then sends away to be powder coated before being painted.
Ron has become something of a tourist destination himself along the sprawling Sturt Highway. He says many of his works are commissioned by companies hoping to use them as an eye catching form of advertising, or small towns trying to boost their profile.
"The towns out in the country are desperate to get tourists and they want things that the public will look at and photograph."
Many of his works have been sent overseas, and he was commissioned to sculpt a Caterpillar tractor to hang outside Sydney's Gough & Gilmour offices.
But his best selling work by far is sculpting silhouetted motorcycles.
"I can make a beautiful team of Clydesdales to go on the wall and it might take months to sell," says Ron. "But all I've got to do is make a Harley Eagle and someone will snap it up.
"I'm right on the highway, so when I first started I used to do sculptures for the bikers who stopped by." Ron, whose son often works with him, says that despite the potential for irreversible mistakes when sculpting with steel, there is no room for timidity.
"You have to be bold. You've got to get the torch and be prepared to wreck a piece of steel. It's like with painting, if you're timid, it shows."
Ron says he uses BlueScope Steel because of its quality.
"I can't work with inferior steel," he says. "If there's an impurity in it, it will show up when I'm doing something crucial like sculpting someone's eye. It will just blow out."
As a member of the BlueScope Steel Brand Partnership Program, Ron uses the Steel Manufactured By logo on the poems he often gives customers when he hands them their finished sculpture.
For more information contact:
Ron Clarke
Ph: 02 6968 4284