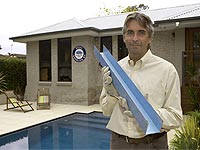 Demand for Steel Framed Houses Rises in the Illawarra
13 July 2006
The current softening of the New South Wales residential building market has seen a steady rise in interest in steel framing, according to David Sheehy, Managing Director of Illawarra Steel Frame Homes.
The company is the largest supplier of steel house frames around Illawarra.
"When customers have time to consider how they'll build their homes, without the constant pressure of rising home prices and increased building activity, they more often than not settle on steel framing," Mr Sheehy said.
"Our customers appreciate steel frames made from TRUECORE® steel from BlueScope Steel over traditional pine timber house frames."
One consideration affecting buying decisions in the Illawarra region, as in many other parts of Australia, is termite activity.
Customers also point to other advantages of TRUECORE® steel frames over timber. Steel remains perfectly straight, is lighter (a major handling consideration for owner builders), quick to work with compared with traditional framing materials, and can be erected using normal building tools.
Illawarra Steel Frame Homes, based at Oak Flats near Shellharbour, provides a range of home building products, from frames made from TRUECORE® steel to pergolas and home extensions, through to kit homes.
"We can even provide all the steel cladding, made from COLORBOND® steel or ZINCALUME® steel, should a customer want it," David says. "While we transport frames and buildings throughout New South Wales, we have supplied a knock-down house for a customer in Far North Queensland. However, our strongest demand right now is coming from the far South Coast of New South Wales, ironic when you think of the strength of that area's timber industry."
David says his company joined BlueScope Steel's Steel By Brand Partnership Program because it allows Illawarra Steel Frame Homes to leverage the quality, strength and warranty support of Australia's leading steel supplier.
It also reinforces the quality of his own company's brand and products by highlighting the use of quality Australian steel products from BlueScope Steel.
For more information:
David Sheehy
Ph: 02 4237 6667

More about these products