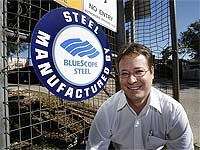 DSI Leads World in Innovation
08 June 2006
Providing innovative solutions fast has helped DSI Mining become a global leader in mining products and systems.
DSI Mining is an international company based in Newcastle and has become one of New South Wales' most successful exporters. It is the country's leading manufacturer and supplier of strata control products.
DSI Mining's Manager, Australian Mining Business Unit, Derek Hird says innovation is the key to the company's ongoing success.
"Every mine is different. There are some basic solutions that can be used, but in every case, innovative solutions and a fast response are crucial," he says.
"We know mining companies have to get in there quickly, otherwise it costs them."
DSI Mining's research and development is coordinated in Newcastle and the company has built a reputation for world leading technology.
It has pioneered the development of a range of new mining products including a new DCP (Double corrosion protection bolt) with up to a 100 year life expectancy, Turtle Plates, Star Plates and Posimix bolts, as well as friction bolts, rock bolts, resin anchors and cable bolts.
Derek says these innovations offer the most durable and cost effective solutions available. A new Domed Ribbed Butterfly Plate developed by the company for a southern region mine is predicted to make significant annual savings.
"We're one of the world leaders in ground control products, not only in Australia, but around the world. Australia is one of the recognised leaders in that technology."
Derek says DSI Mining is a one-stop shop for the mining industry, offering Australia's largest range of strata control products.
DSI Mining works closely with mining companies and has a presence at every major Australian mining centre.
"At Mt Isa we're more than just a supplier, we're more like a partner," he says, explaining that DSI Mining logistics, technical services representatives and warehouse staff are stationed at the Queensland mining centre to ensure faster delivery of products.
Derek says DSI Mining is increasingly offering training packages together with its mining products and systems. "At Ashton Coal in the Hunter Valley, we've provided geo-technical training packages because it's a new workforce and a brand new mine.
"Labour shortages have been a big problem in the mining industry so a lot of the workers haven't had a lot of underground experience."
DSI Mining recently won the 2005 NSW Regional Exporter of the Year Award, with exports an increasing focus for the company.
It now exports to New Zealand, Papua New Guinea, Indonesia, Fiji and Turkey, and has helped develop solutions for some of the world's biggest mines including Freeport in Indonesia.
DSI Mining is a division of international civil construction company Dywidag Systems International. It was launched in 2000 after Dywidag Systems International decided to base its mining operations in Australia and acquired ANI Strata Products, a company with nearly a century of experience in the mining and fabricating industries. DSI Mining continues to grow, internationally, through acquisition.
DSI Mining is a member of the Brand Partnership Program by BlueScope Steel, and uses a range of formable and high strength hot rolled coil products by BlueScope Steel, including HA350 and HA250, because of its consistent high quality.
"There are people working in these underground excavations and safety must be paramount, that's the attitude of every mining company," says Derek.
"With material from BlueScope Steel, we know quality is inherent in our products. People can look back over our manufacturing line and see the steel DSI uses is supported by BlueScope Steel."
"We know the quality comes at a small premium but there are savings because you don't have to deal with quality issues through the manufacturing process."
Derek says BlueScope Steel's technical advice has also been crucial in helping develop new products, and that DSI Mining has always been able to rely on BlueScope Steel to deliver products on time.
For more information contact:
Derek Hird
Ph: 02 4948 9099

More about these products