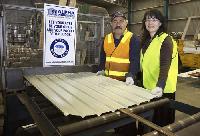 Expanding Steel Business Gets an Edge
10 November 2005
An innovative family owned and operated South Australian business is riding a wave of demand for steel building products by adopting new technology as it expands and consolidates its product range. Manufacturer of carports, garages, rural and industrial buildings, Alpha Industries has installed a new rollforming machine at its Cavan premises to expand its production methods.
News Item: 1 September 2005
Marketing Manager, Sia Volaris, said the jewel among its rollformers is Alphaclad which is a unique 16 millimetre low rib profile. "The low rib is exceptional for use in garages and sheds as it minimises gaps," Sia said.
Alpha Industries has just completed the fourth stage of its warehousing complex, started in 1985. This stage features a 37 metres clear span warehouse with over 1,600 square metres of floor space.
The warehouse was purpose built to house a new custom made, advanced purlin rollformer. This rollformer can guillotine purlins to various angles.
"These specialty purlins will open up new opportunities for our business," Sia said. "We also have the advantage in the marketplace of not only rollforming the materials for a project, but also having the sub-contractors in place to install the finished products."
The company has also become a participant in the Steel By Brand Partnership Program, actively promoting its use of steel supplied by Australia's leading steel company.
"We only use the best cold formed products in the marketplace and that means Bluescope Steel products," Sia said. "It's an easy choice to rollform and supply only BlueScope Steel products, having seen imported products in day-to-day applications that don't measure up to genuine COLORBOND® steel."
"Customers rely on our experience and expertise when selecting new products or renovating the home or business premises. We are there to steer them in the right direction if they don't already know about the reputation of BlueScope Steel products."
For more information:
Sia Volaris
Alpha Industries
Ph: 08 8349 6707