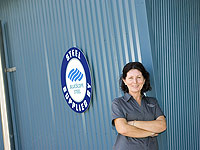 Female Owner A Tru-Fit For Townsville Business
18 May 2007
North Queensland's development boom is driving the rapid growth of a Townsville woman's commercial and industrial flashings and light fabrication company.
Tru-Fit Flashings, bought four years ago by Kris Bowman, has grown from two to eight employees as demand for fast, quality service has grown.
Amazingly, the company has never needed to advertise. Work comes purely through word of mouth recommendation, and Kris attributes her growing success to providing excellent customer service and quality products, and the loyalty and dedication of her staff.
Tru-Fit Flashings, which produces a range of flashings, rainwater goods and stainless steel products, takes pride in turning many orders around inside 24 hours.
"Our workshop is set up to enable us to have two teams running at any given time," Kris says. "As pulling and marking the steel sheets takes the most time, this allows a constant flow of output. We can at times have six employees standing along the eight metre slitter/folder pushing jobs through during peak production times."
Kris, a former office worker, bought the company while her husband Kevin was working in Papua New Guinea. He now runs their excavation company.
"We use only BlueScope Steel products because our customers aren't happy with anything less," Kris says.
Tru-Fit Flashings, which uses COLORBOND® and ZINCALUME® steel sourced through distributor OneSteel Townsville, also fabricates and sells rainwater goods made from BlueScope Steel products.
"Due to our large turnover of COLORBOND® and ZINCALUME® steel products, it is imperative that we maintain sufficient stock levels at our workshop and through our supplier," Kris says. "This ensures we meet our fast turnaround policy."
The company has been involved in major commercial projects including Townsville's Lavarack Barracks, the local RAAF base, Thuringowa's Riverway development and more recently Peppers Blue on Blue Resort on Magnetic Island and the Australian Technical College.
"We worked two shifts a day, six days a week to produce about 60 tonnes of ZINCALUME® steel flashings and 20-30 tonnes of COLORBOND® steel flashings in the colour Windspray® for Lavarack Barracks," Kris says.
Tru-Fit Flashings has fabricated flashings from COLORBOND® Ultra steel for the One Bright Point Development on Magnetic Island, and made flashings from COLORBOND® Metallic steel for Townsville's Airport.
Tru-Fit Flashings also supplies flashings and rainwater goods to a major relocatable home builder, and carries out light fabrication work for companies associated with the mining industry. Some of the company's products are used at various mines in Queensland and Papua New Guinea.
"We're in the process of expanding our workshop and building a new office," Kris says. "I would like to see the company grow significantly during the next 10 years, while continuing to offer the same prompt, quality service."
Tru-Fit Flashings is a member of the STEEL BY™ Brand Partnership Program.
"The program allows us and our customers to show our support for Australian made goods," Kris says. "Importantly, BlueScope Steel products such as COLORBOND® steel stand the test of time."
"I also enjoy reading the Steel Edge and STEEL BY™ publications because they contain success stories on small businesses like mine."
For more information contact:
Kris Bowman
Tru-Fit Flashings
Ph: 07 4774 6716
More about these products