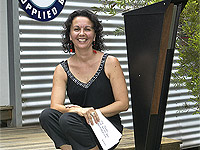 Frontyard Art Posts Winning Letterboxes
19 September 2006
Queensland company Frontyard Art firmly believes not all letterboxes are built equal. Noosa based Frontyard Art has finally unveiled its SPIKE range of functional, contemporary letterboxes, designed for homeowners looking to transcend the boring or property developers seeking an elegant multiple solution.
The range is the result of more than seven years' development and has evolved through more than 14 different prototypes, and the company is now faced with initial orders flowing in from around Australia.
The husband and wife team of Grant Calder and Kelly McDonald, believe their SPIKE Regular and SPIKE Royale letterboxes are just as much frontyard fashion statements in steel as receptacles for daily mail.
Grant, an architect who works on Queensland's Gold Coast, says SPIKE is a culmination of hobby turned business and almost a decade spent working with an idea that letterboxes can be beautiful.
All Australia Post compliant SPIKE letterboxes are made from powder coated ZINCALUME® steel, and feature front panels of select Australian hardwoods.
Weatherproof and durable, they have been designed to handle items as large as parcels and magazines.
"I have designed the shape to be timeless and striking, without being pretentious," Grant says.
"Classic styling and design never dates, and this is possible through skilfully blending structure and function."
Frontyard Art has selected ZINCALUME® steel from BlueScope Steel because of its consistent quality and durability, and because of the product's superior after-sales service and support.
"There's little point in building and marketing a product that doesn't last the distance in Australia's harsh environments, and ZINCALUME® steel is simply superior to other steels we've investigated," Grant says.
Frontyard Art has successfully piloted the SPIKE letterboxes at Eumundi Markets, near Noosa, for some months, and sales are climbing steadily as a result.
The company is now starting to advertise more widely.
"Sydney and Melbourne customers, in particular, say they are looking for letterboxes that match their properties, and are willing to pay for something stylishly different," Kelly says.
To further reinforce the quality of its products, Frontyard Art has joined the Steel by BlueScope Steel brand partnership program, and is looking to leverage the quality BlueScope Steel brand against its own quality.
"We may not build the biggest steel products in Australia, but we're proud of our stylish letterboxes, and the quality of the steel we use has to reflect this pride," Kelly says.
For more information, visit the Frontyard Art website at www.frontyardart.com.au.