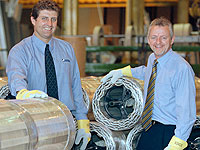 Gliderol Grows at Home and Abroad
28 February 2005
Privately owned Australian manufacturing company Gliderol International Pty Ltd has managed to achieve international success without losing focus on its local customers. The core business activity of the Holden Hill (SA) based company initially revolved around its continuous steel curtain roller door and unique orbital drive automatic operator.
In recent years Gliderol has diversified from basic roller door manufacture to a much wider range and also exports its products and technology around the globe.
"Sales of our Panelglide sectional overhead door and operator continue to grow as trends in the new housing market move away from standard roller doors," said Gliderol National Sales & Marketing Manager, Nick Storen.
"At the same time our traditional roller door sales are still strong, with a large proportion of doors required for the ever-expanding storage and shed markets.
"With new lines such as the Broadline commercial roller door, the Rolamatic GRII retrofit roller door operator, Timbaglide sectional overhead door and commercial interlocking slat shutter, we now provide products right across the garage door market," he said.
Gliderol has branches in South Australia, Victoria, Queensland, Western Australia and New South Wales, as well as international plants in the United Kingdom and the Peoples Republic of China.
A network of licensees operate in Saudi Arabia, South Africa, Dohar, Qatar, Abu Dhabi, Bahrain, Spain, New Zealand, Singapore, Taiwan, USA, India, Thailand, Sri Lanka and many other countries.
"Despite our overseas success and growth we have never taken our eye off the Australian market," Nick Storen said.
"We've recently aligned ourselves with the Steel By Brand Partnership Program to highlight our use of COLORBOND® steel from BlueScope Steel. "One of the things you look at when sourcing raw materials is what they can add to your brand's standing in the market place.
"The BlueScope Steel name is regarded positively by consumers and its association with Gliderol has a positive impact on their purchase decisions."
For further information contact:
Nick Storen
Gliderol International Pty Ltd
Ph: 08 8261 9633