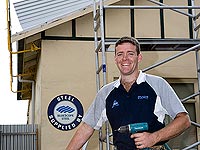 Go-Ahead Roof Plumbing Company Helps Kick Start Young Careers
09 October 2007
South Australian roofing specialist Aceblock Pty Ltd has elected to take students fresh from that state's Doorways 2 Construction (D2C) Vocational Education and Training program being run through selected schools.
The D2C program allows students to kick -start their construction careers while still at school.
These Year 10 and 11 students are keen to work in the building industry and already know their way around the tools of the trade before they enrol in the TAFE SA Apprentice School of Roof Plumbing, according to Aceblock's Managing Director Peter Bradley.
Currently, Aceblock has three apprentices enrolled in this TAFE SA roof plumbing course.
The company has operations in Adelaide and Whyalla and currently roofs about 100 domestic dwellings and building extensions a year using steel products sourced in part through BlueScope Lysaght.
These include LYSAGHT CUSTOM ORB® and LYSAGHT MINI ORB® made from COLORBOND® steel, and BlueScope Lysaght rainwater products.
While Aceblock concentrates on roofing work (whole roofs and extensions) and associated guttering work, the company also builds carports and verandah extensions using BlueScope Lysaght steel products.
The company, launched by Peter Bradley in 1989, specialises in curved roofing and traditional bullnose verandah refurbishment using LYSAGHT CUSTOM BLUE ORB®.
"Although we're busy in both cities and surrounding districts, we see business booming in Adelaide in the years ahead," Peter says.
"We are looking to do more work in Adelaide, servicing direct public customers in the roofing and guttering sector."
Although most work in Adelaide involves re-roofing older properties, most Whyalla work involves roofing for new homes - courtesy of the boom associated with BHP Billiton's expansion at Roxby Downs, Australia's largest underground mine, and the OneSteel Project Magnet operation.
Aceblock operates its own teams of tradespeople and does not use salespeople. Nor does the company franchise out work, or take on contractors.
"Aceblock personally guarantees all its work, and we couldn't do that if we relied on outsiders," Peter says.
Peter and his General Manager Craig Badenhop (based in Adelaide) also take workplace safety seriously. Aceblock uses all the latest safety equipment, including scaffolding towers, roofing safety rails and harnesses, and makes them part of the company's standard safety practices.
"We believe these safety measures - and our ability to offer them as part of Aceblock's overall service, will underpin our basic philosophy of the safest possible, personalised service to all customers," Peter says.
Aceblock Pty Ltd is an enthusiastic member of BlueScope Steel's STEEL BY™ Brand Partnership Program.
"We want to reinforce our reputation for quality and personalised service with the understanding that we use only the best steel products - made in Australia by BlueScope Steel," Peter says.
"The STEEL BY™ program allows us to promote this fully.
"We also intend using our STEEL BY™ member profile as a marketing aid and editorial support for ads we plan running in local newspapers and newsletters."
You can see more of Aceblock's work on the company's website: www.aceblock.com.au .
For further information contact:
Craig Badenhop (Aceblock Adelaide)
Ph: 0414 751 473
Peter Bradley (Aceblock Whyalla)
Ph: 0415 398 684
More about these products